Back acne can be a real nuisance, especially when it ruins the appearance of a backless dress or makes a light shirt feel heavy. That's why having Back Acne Treatment products on hand is essential. One such product that has been generating a lot of buzzes lately is the Medix Back Acne Treatment Spray by Herbaluxy. But is it trustworthy enough to invest in? Let's find out in our comprehensive Herbaluxy Back Acne Spray Reviews.
It's not uncommon for products to make claims about their effectiveness and reliability that may not be entirely accurate. To determine if this spray lives up to its promises, read this detailed report until the end.
You may also read Can Reiki Really Cure Acne?
Herbaluxy Overview
Herbaluxy is a beauty brand known for its vegan, natural, and cruelty-free skincare and cosmetic products. Their 120 ml Back Acne Treatment Spray contains beneficial ingredients such as Salicylic Acid, Niacinamide, Tea Tree Oil, and more, all working together to combat troublesome back acne.
This spray targets clogged and enlarged pores, addressing body acne and resulting in a bump-free and even skin tone. Its deep cleaning formula prevents new acne from forming. In case of any issues with delivery or results, you can reach out to their customer support via email, as provided on their official website. They also offer discounts for bundle purchases.
A few months ago, I had severe back acne with red bumps all over my shoulder blades. I searched for potent acne-treating sprays on my phone, preferring a spray over a lotion for its lighter consistency. Among the many options, I chose this product due to its impressive ingredients. After using it for two weeks, I began noticing some positive changes. While I will share my personal results later, let's first understand why back acne occurs.
What Are Back Acne?
Back acne, also known as "bacne," refers to acne that appears on the back. It can consist of whiteheads, blackheads, or red acne, and there are several factors that can contribute to its development. High natural sebum secretion, infrequent cleansing leading to clogged pores, sweating during summers, damp hair, friction from shirts, trapped sweat post-workout, and pore-clogging skincare products are all potential triggers. Hormonal changes, certain medications, family history, excess stress, and anxiety can also play a role in back acne formation.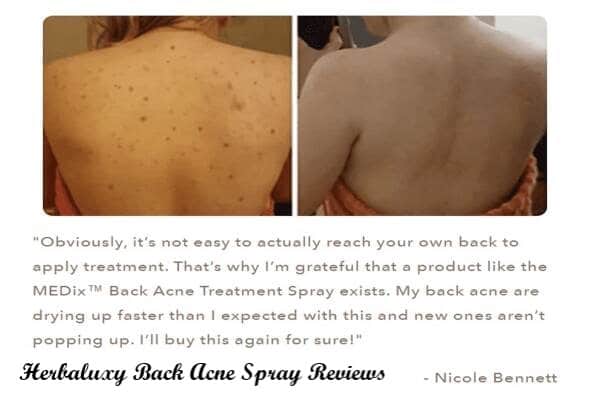 How To Use This Spray Effectively?
To use the Herbaluxy Back Acne Spray effectively, start with a patch test. Store the spray bottle in a cool, dry place away from sunlight and high temperatures. Follow these steps:
Clean the acne-prone skin and allow it to dry completely.
Spray the product all over the areas affected by acne and wait for 2-3 minutes to let the skin absorb it thoroughly.
Continue using the spray until your back acne clears up.
Ingredients Of Herbaluxy Back Acne Spray
The main ingredients in the Herbaluxy Back Acne Treatment Spray include:
2% Salicylic Acid: A well-known chemical exfoliant that penetrates the skin, eliminating dirt, dead skin cells, and trapped oil. It unclogs pores and reduces redness, inflammation, and the likelihood of future breakouts.
Mangosteen and Aloe Vera Extract: Speed up the healing process of acne and blemishes, adding a smooth radiance to the skin texture. They also strengthen the skin barrier and provide intense hydration.
Zinc PCA: Reduces swelling, redness, and excess sebum production around breakouts. It is suitable for sensitive skin. However, the product label does not specify the percentage of Zinc PCA.
Niacinamide: Minimizes pore size, fades pigmented patches, brightens skin tone, and reduces redness and enlarged pores caused by acne.
Now Let's Examine The Pros and Cons Of Herbaluxy Back Acne Spray
Pros:
Lightweight and gentle on sensitive skin.
Effective spray nozzle for precise application.
Soothes skin irritation caused by back acne.
100% cruelty-free and made with organic ingredients.
Cons:
Relatively high price.
May not work for all skin types.
A strict refund policy makes returns challenging.
Herbaluxy Customer Reviews
Moving on to customer feedback, let me begin by sharing my own experience. Initially, I was unsure about the results as my acne didn't improve in the first week of daily use. However, by the end of the second week, I noticed a reduction in inflammation. By the third week, my acne started to heal, although some scars remain. Nevertheless, I remain hopeful about this product. Now let's hear from other customers.
Andy says, "I love how quickly it dries and leaves a soft, moisturized feeling on my back. This Spray Treatment effectively calms down my skin irritation."

Monica asserts, "Since using this spray, new acne has stopped appearing. If I ever face back acne again, I know which product to rely on. I highly recommend it."

Anna complains, "I didn't notice any changes in my back acne. I'm disappointed with this product and feel like my money was wasted. I plan to give the second bottle to a friend."
Overall, this product has received positive reviews from many customers, although there are a few who didn't experience noticeable results.
FAQs: Questions And Answers
To address frequently asked questions, here are some relevant answers:
Q: What is the feedback regarding Herbaluxy Back Acne?
A: The majority of reviews praise this product, but some individuals have mentioned that it hasn't worked as expected. Your personal experience may vary.
Q: Is it recommended to utilize Herbaluxy Bacne Spray?
A: Yes, you can use this product if you have back acne. Its effective ingredients help reduce acne scars and associated irritation. Perform a patch test before applying it on the back.
Q: What is the duration of back acne?
A: The duration of back acne depends on individual skin and the severity of the condition. Mild acne can be treated at home, with results typically appearing within six to eight weeks. If it persists beyond that, it's advisable to consult a dermatologist for expert guidance and faster healing.
Q: Can back acne be permanent?
A: No, back acne is not permanent and can be treated. Some people find relief through at-home treatments, while others may require intervention from a dermatologist. Take it seriously when you first experience back acne and seek prompt treatment while following good skincare practices.
Remember, effective communication is key when discussing back acne concerns, just as seeking appropriate treatment and maintaining a good skincare routine are essential for managing and preventing further breakouts.
---
Sources
Back Acne ("Bacne"): Symptoms, Causes & Treatment [Online] Available At: https://my.clevelandclinic.org/health/diseases/22756-back-acne
What Is Zinc PCA, and What Does It Do For Your Skin? [Online] Available At: https://www.popsugar.com/beauty/what-is-zinc-pca-48828858
Benefits of Niacinamide (Vitamin B3) [Online] Available At: https://health.clevelandclinic.org/niacinamide/