Who wouldn't want to have young-looking skin forever? While it is impossible to have young skin at one age, you may still help it look its best by using the right vitamins. Drinks containing collagen supplements are great for your skin and health, but choosing the proper one for your skin is still a challenge.
Nu Skin Beauty Focus Collagen+, a product that makes a lot of noise and promises to keep your skin young, is one example. But once more, is it reliable? But are the components of Beauty Focus Collagen clinically supported to back up these claims? Does the dietary supplement include any unhealthful additives? And what does the Nu Skin-funded study on this product reveal?
Our Nu Skin Collagen Reviews will help you learn the truth about this product as we look at its specifics, advantages, applications, components, side effects, reviews, and more.
About Beauty Focus or Nu Skin Collagen
The supplement Nu Skin Beauty Focus Collagen, also known as Beauty Focus Collagen Plus, is offered by the Nu Skin company. The product is marketed by the company as a supplement that can "visibly reduce fine lines and wrinkles" in the skin and "boost hydration for all-out gorgeous skin."
The company owns skincare goods, cosmetics, and dietary supplements. There are two flavors of the Nu Skin collagen beverage: peach and strawberry. Among the various varieties of collagen found in this product is Type 1 Bovine Collagen, which helps your skin, nails, bones, and other body components to develop.
Bovine is created from the bone, cartilage, and hide of farm-raised cows. The simpler, fragmented forms of collagen that are more readily absorbed by our bodies are known as collagen peptides. You'll see the truth about this product after reading this review of skin collagen. See what the brand describes as the advantages of consuming this drink before we delve further.
Pros
This product is convenient for travel and straightforward to use. Moreover, it offers a delightful taste, enhanced by the addition of flavors.
The Nu Skin collagen drink is completely devoid of artificial colors or sweeteners.
You'll find that the collagen peptides in this product work wonders for your skin by improving its moisture, elasticity, and hydration levels.
Furthermore, an optimal dose of collagen peptides supports the development and structural integrity of our body and skin.
Notably, collagen peptides are known for their quick digestion, superior absorption, and even distribution throughout the body.
Cons
Some users may find the price point to be on the higher side.
It's worth noting that a few ingredients in this product might not be suitable for everyone.
Please be aware that this product may not be suitable for vegans and vegetarians, as it contains flavors that could potentially impact your health.
Additionally, it's important to mention that the FDA does not endorse any claims regarding the potency or credibility of the ingredients.
Lastly, it's prudent to exercise caution when evaluating the results of on-display clinical trials for this product, as they lack support from credible sources.
Ingredients Used In Nu Skin Collagen
Nu Skin Collagen comprises three active ingredients: collagen peptides, lutein, and wheat lipid extract.
Collagen Peptides
Collagen peptides represent the primary active ingredient, and the dosage in Nu Skin Beauty Focus Collagen, at 2,500 milligrams (mg), proves to be effective for wrinkle reduction. A 2014 clinical trial, utilizing the exact same dosage, demonstrated significant reductions in skin wrinkles after eight weeks of daily supplementation.
Lutein
Lutein, an antioxidant compound naturally occurring in plants such as broccoli and peppers, has shown promise in enhancing skin quality in certain clinical trials. However, none of these trials have utilized a dose as low as 5 mg, which is the amount present in this supplement.
Wheat lipid extract holds the potential for enhancing skin quality, although we consider the quantity included in this supplement to be insufficient.
A clinical trial published in the Journal of Cosmetic Dermatology reported wrinkle reduction and improved skin hydration with a dosage of 350 mg, a significantly higher amount than that found in Nu Skin Collagen. No published clinical trials support the effectiveness of a dosage as low as what is offered by this supplement.
Citric Acid
Citric acid serves as both a preservative and a flavor enhancer. Our review of Niu Age Skin Serum and Collagen SKin Gummies, other supplements containing this ingredient, revealed that citric acid has been associated with inflammatory reactions in a small subset of individuals in medical studies.
Added Flavors
The term "natural flavor" is a broad categorization that does not specify the exact flavoring agents used. Medical research has documented toxicity concerns associated with certain flavoring compounds. Beauty Focus Nu Skin Collagen includes two distinct flavoring compounds: Peaches and Cream and Vanilla.
Overall, we anticipate this supplement to be potentially effective for reducing wrinkles and enhancing skin quality, primarily due to the adequate dosage of collagen peptides.
How To Use Nu Skin Beauty Focus Collagen?
You can get the Beauty Focus Collagen+ powder in jars, juice bottles, or stick pouches. It is rather easy to use, but you must always read the directions on the back of the supplement to know how to take it properly. These instructions can be used with the 97 g jar and scoop that is included.
Take one or two scoops of the powder.
In 100 ml of hot or cold water, combine it. Instead of ordinary water, you can substitute it in smoothies, juice, coffee, or tea.
Mix the powder thoroughly until there are no floating lumps.
If you use the product in pouch form (30 pieces of 30 ml each in each set), the procedure is different.
Pour a full packet of this product into your water or other beverage, then consume it shortly after mixing.
You can consume it at any time of day, with or without meals. Please keep having it at the same time every day.
Consume it frequently for best results.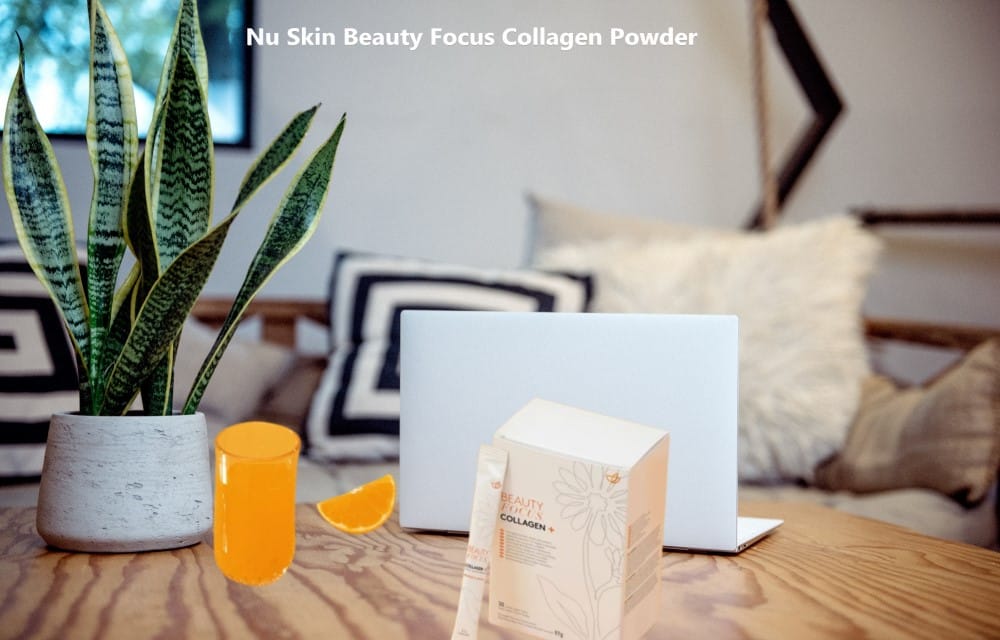 You must keep children under 18 away from it. Always keep the product in a dry, cool environment. If you have any discomfort after consuming it, stop drinking it right away and call your doctor. Additionally, find out if you can consume it while nursing or pregnant.
Customer Reviews and My Personal Experience with Beauty Focus Collagen
I would like to share my personal experience with Beauty Focus Collagen and provide an overview of Nu Skin collagen reviews before and after its use. Approximately two months ago, I decided to try this product based on a friend's recommendation. My primary concerns were related to wrinkles, thin hair, and brittle nails. I received two boxes of the strawberry-flavored supplement, each containing 30 sachets. My daily routine involved mixing one sachet with my morning smoothie.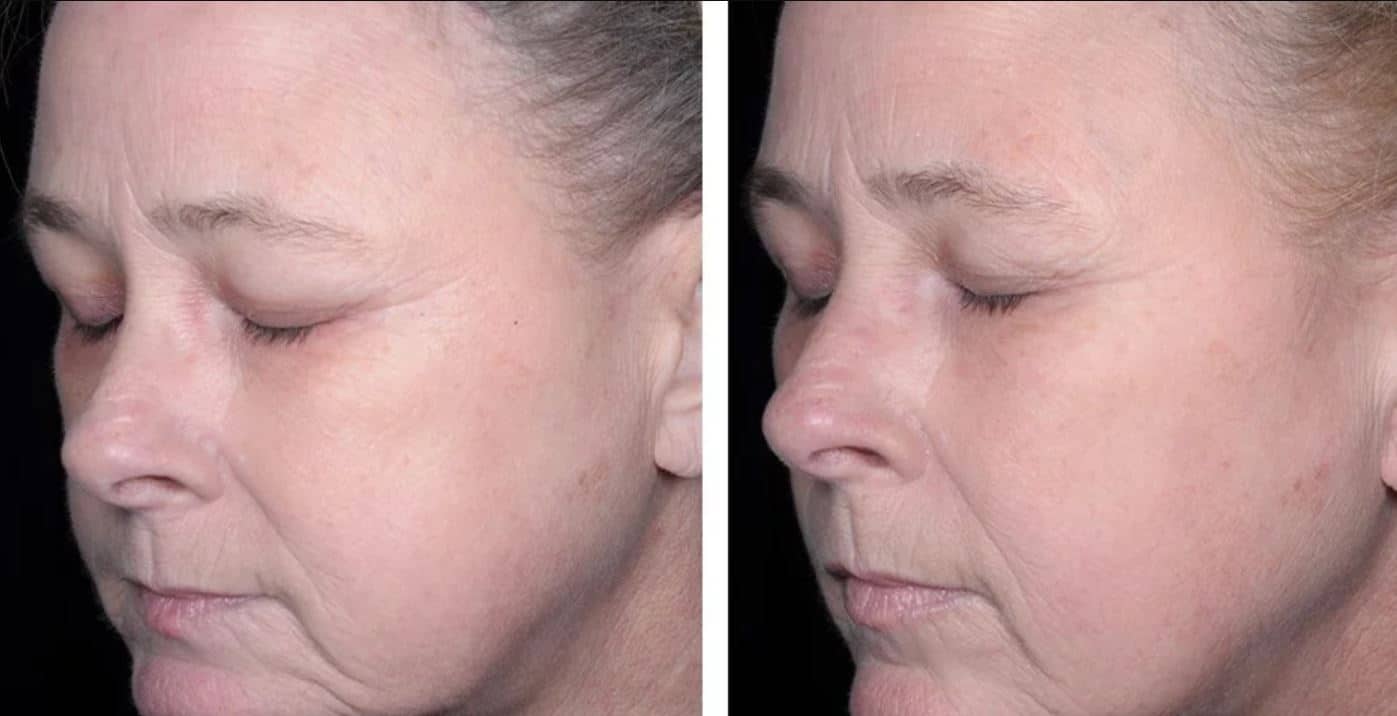 Surprisingly, I did not experience any side effects, despite being advised by my doctor that I might. Around the fourth week of use, I noticed an improvement in the radiance of my skin. While my fine lines and hair didn't show significant changes, there was a noticeable enhancement in the condition of my nails. Overall, I found the results satisfactory. However, I must mention that I won't be purchasing it again due to the Nu Skin collagen price range exceeding my budget. Now, let's explore the opinions of other users.
Nu Skin Collagen Reviews From Real Users
Monika M. shares, "The Nu Skin Beauty Focus collagen drink has truly worked wonders for me! I'm pleasantly surprised by the visible reduction in my wrinkles, and my hair appears denser than it did a month ago."
Arora J. comments, "Incorporating this powder into my daily juice has been a delightful experience, thanks to its enjoyable strawberry flavor. Within just three weeks, I noticed improvements in the texture of my nails and skin. It's worth noting that I also started a daily workout routine and adopted a healthier diet, which may have contributed to these results. I credit both factors."
Elif Sapari, on the other hand, states, "I, unfortunately, did not witness any noticeable results. Nu Skin products tend to be on the expensive side, and this one, in particular, did not live up to my expectations. On my first attempt, I felt nauseous and bloated. My sister also tried it without experiencing any side effects, but she, too, failed to see any significant changes. I cannot, in good conscience, recommend it to anyone."
You can compare it with the following products that have the same ingredients but are topicals:
Verdicts: To Sum It Up
I hope you now have a comprehensive understanding of this product's benefits, composition, potential adverse effects, and reviews as we draw to a close. This product is genuinely efficient and does indeed show the advantages in practice. Additionally, each serving of the product contains 2.5 g of collagen peptides, a safe amount that even novices can use guilt-free. However, we can't completely eliminate potential product-related worries.
The best course of action would be to do your bit by reading over its specifics here and consulting a doctor before use. Let me ask you a question before we come to an end here. Are you maintaining a healthy diet and an active way of life? If so, your adventure to reverse your age has already begun. If the answer is no, though, you should get started right away.