Eelhoe Collagen Boost Reviews – Various factors such as direct sunlight exposure, free radicals, and a poor diet contribute to premature aging. While SPF products are available, a well-rounded skincare routine is still necessary. Among the crucial elements in combating signs of aging is a high-quality product that enhances elasticity and boosts collagen. However, with numerous creams and serums on the market, choosing the right one can be challenging.
Eelhoe Collagen Boost asserts its ability to diminish the visibility of wrinkles and fine lines while providing adequate moisture to the skin. To determine the product's efficacy, let's examine honest reviews of Eelhoe Collagen Boost.
What Is Eelhoe Collagen Boost?
Eelhoe Collagen Boost is a facial serum specifically formulated to hydrate the skin and diminish the visibility of wrinkles and fine lines. According to the manufacturers, it is intended to enhance collagen production, resulting in a more youthful and radiant complexion. The brand's website contains numerous assertions, accompanied by before and after photographs that raise doubts. In comparison to other serums, Eelhoe Collagen Boost is priced reasonably. Customer reviews indicate a mixed response, with some individuals expressing satisfaction with the product while others were less pleased.
You may also read Essential Skin Food Reviews!
Who Made Eelhoe Collagen Boost Anti-Wrinkle Serum?
The seller of Eelhoe Collagen Boost remains uncertain. The manufacturer's website, "Beumoon," and the Amazon store, "KBTPMTL," are both associated with the product. However, the manufacturer's website provides minimal information, except for mentioning that the product is manufactured in China.
How Does Eelhoe Collagen Boost Serum Work?
Eelhoe Collagen Boost incorporates nourishing ingredients that aim to support skin health and enhance collagen production. According to the manufacturer, these ingredients have the ability to retain moisture, stimulate collagen synthesis, reduce wrinkles, improve skin brightness, and repair damage. The brand presents before and after photos as evidence to substantiate these assertions; however, some observers find these photos to be unrealistic, as they appear heavily edited and excessively dramatic.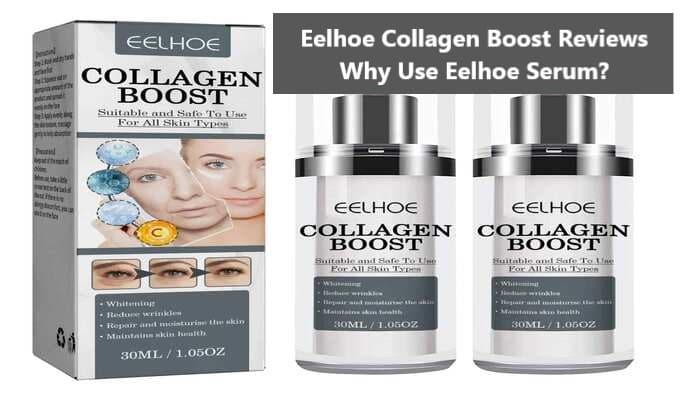 Ingredients Used In Eelhoe Skin Serum
The complete ingredient list for Eelhoe Collagen Boost Anti-Aging Serum is not provided. The manufacturer has disclosed only four ingredients on their website, which are as follows:
These are the sole ingredients listed on the manufacturer's website. Consequently, consumers should exercise caution as there is no information available regarding any additional components that may be present in this facial serum.
Is Eelhoe Collagen Boost Skin Serum Safe And Effective?
The website presents certain scientific figures and statistics; however, it is difficult to verify their accuracy due to a lack of supporting evidence. Examples of claims found on the website include a "90% reduction in fine lines and wrinkles" and the statement that it "brightens 95.6% of dull skin." Additionally, the website mentions a study involving over 2,000 volunteers lasting for 7 weeks, but no link to the actual study is provided.
The credibility of this website raises concerns, as it showcases before and after photos that appear to be heavily manipulated and unrealistic. Some photos depict individuals who appear to be completely different people, while all the images appear to be extensively edited. Moreover, the customer reviews on the site also seem dubious, with pictures of women accompanied by male names.
What Benefits Does Eelhoe Collagen Boost Serum Offer?
Targeting Aging Signs: Designed for individuals in their 30s and 40s who are encountering common signs of aging like wrinkles, rough texture, lines, dryness, and lackluster appearance, Eelhoe serum presents an effective solution. By enhancing collagen synthesis, the serum contributes to achieving skin that is smoother, more radiant, and visibly youthful.
Enhanced Moisturization: Particularly beneficial for those with dry skin prone to itchiness, redness, and irritation, this serum provides substantial advantages. Featuring potent hydrating elements such as Hyaluronic Acid, known for its ability to retain up to 1000 times its weight in water, the serum aids the skin in retaining moisture. This results in a plump, soft, and moisturized complexion.
Preventive Action: For individuals in their mid to late twenties, looking to proactively delay the onset of aging indications, Eelhoe Serum emerges as a valuable anti-aging remedy. This age group frequently expresses concerns about dullness, puffiness, enlarged pores, sun spots, and fine lines. The inclusion of this serum in your skincare regimen can effectively address these issues while also acting as a preventive measure against further signs of aging.
To explore the benefits of Eelhoe Collagen Serum, redeem a 25% discount by using the code "MYCOLLAGEN" on the official website.
Pros Of Eelhoe Collagen Boost
The product contains well-known and effective ingredients such as hyaluronic acid and Vitamin C.
It has a fast absorption rate into the skin.
It provides a non-greasy and non-sticky feel after application.
Suitable for all skin types.
Besides reducing wrinkles, it also offers deep moisturization to the skin.
The product has undergone dermatological testing.
It imparts a youthful glow to the skin.
Cons
The reliability of the website is questionable.
Complete ingredient lists are not provided.
Customer reviews on Amazon were mixed, with most stating that the serum did not yield significant results.
Eelhoe Collagen Boost Real Customer Reviews
Within our collection of insights, we've gathered a handful of reviews to offer you a comprehensive grasp of the product's efficacy.
Angelica, a satisfied user, expressed, "This serum has truly made a difference for me. Beyond just hydrating my skin, it's remarkably effective at reducing fine lines. As a 70-year-old, maintaining a vibrant appearance matters a lot. I consistently receive compliments on how healthy and youthful I look. I wholeheartedly endorse this product; it's effortlessly impressive."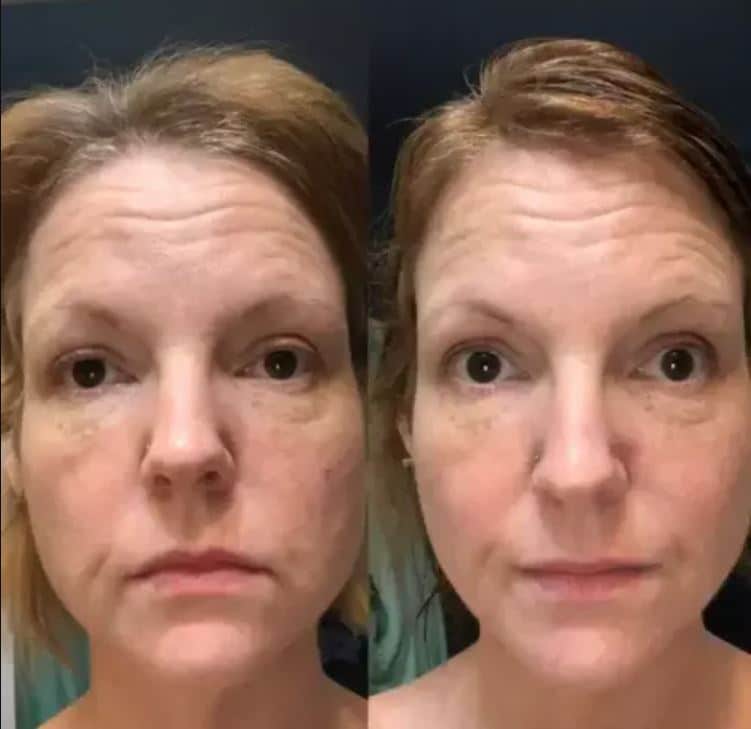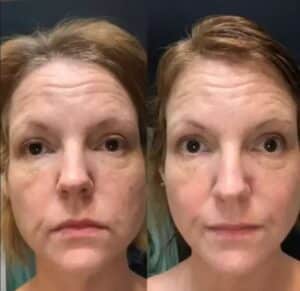 Allen's testimonial sheds light on his transformation, "Having been a devoted smoker for nearly four decades, my face bore the brunt of it—deep lines etched around my lips, and my left profile resembling a dried prune. After using the Eelhoe serum for around five weeks, my eye and lip wrinkles have significantly diminished. My complexion is rosier, exuding a collagen-rich fullness. The improvement is tangible; my skin appears taut and exudes health. I've already ordered two more bottles, and committed to this daily ritual. At 63, I can finally look at my reflection without disdain."
Jenna's review highlights the serum's remarkable attributes, "With a texture that glides on smoothly and absorbs quickly sans any greasiness, the serum ensures no unsightly pillow stains. A month into its use, my skin mirrors that of a baby's—unbelievably soft. Among the plethora of skincare items I've experimented with, none hold a candle to the Eelhoe Serum. My loyalty to it is unwavering, and I'm eagerly anticipating their upcoming releases. Consistently hitting the mark, they've earned my trust."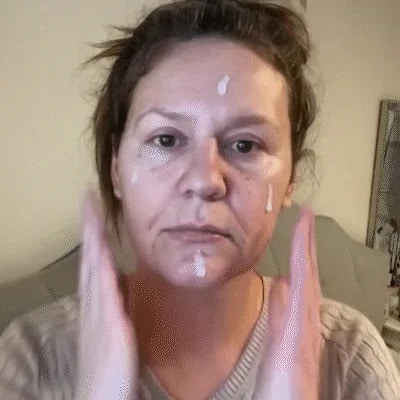 Eelhoe Collagen Boost Reviews | Takeaway
Assessing the Eelhoe Collagen Boost reviews objectively, it is challenging to determine the legitimacy of the anti-aging product due to the limited number of available reviews, most of which express positivity. However, if one chooses to rely on these reviews and the brand's claims, the product may be worth considering, especially considering its affordable price. It is important to note that achieving visible results may require consistent and regular use.
Related Products
FAQs: Questions And Answers
Q: Is Eelhoe Anti-Aging Serum considered safe?
A: The safety of Eelhoe Facial Serum cannot be determined with certainty since the complete ingredient list is unavailable. Based on one customer review, there was a reported skin-burning sensation.
Q: What is the cost of Eelhoe Serum and where can I purchase it?
A: The price of Eelhoe Serum varies depending on the vendor. It is priced at $26 per bottle on the manufacturer's website, but it can be obtained at a significantly lower price of $7.99 per bottle on Amazon. Other online retailers, such as Walmart.com, also offer the product.
Q: Does Eelhoe Collagen Boost offer a free trial or refund policy?
A: The manufacturer's website states that a full refund can be obtained within 14 days of purchase, but no refunds are provided after this time frame. It's important to note that refund policies may differ if the product is purchased from a retailer other than the manufacturer.
Q: How should Eelhoe Serum be used?
A: According to the manufacturer's instructions, follow these steps when using Eelhoe Collagen Boost Serum:
Clean and dry your face.
Apply a small amount of the serum to your face.
Massage the skin for three to five minutes to ensure thorough absorption.
However, it is not specified whether the serum is intended for morning use, evening use, or both.
Q: Where can I find reviews of similar products to Eelhoe Face Serum?
A: To compare product reviews, we recommend visiting the Amazon page of the product and reading customer reviews while comparing them with other products.
Q: What are the potential side effects of Eelhoe Face Serum?
A: Eelhoe Skin Serum does not explicitly mention any side effects. The ingredients listed on the website are generally considered safe and are not expected to cause significant side effects. However, it's important to remember that individuals may react differently to skincare products, especially those with sensitive skin. If you experience dryness, itchiness, or redness, it may indicate a skin reaction to one of the ingredients. To check for a potential reaction, it is advisable to apply a small amount of the product on your inner wrist or the back of your hand and wait for 24 hours before using it on your face.
Q: Where can I find more information about Eelhoe Collagen Boost?
A: For further details about the product and customer reviews, please visit the manufacturer's website or check out retailers like Amazon that sell Eelhoe Collagen Boost.
Sources
Aldag C, Nogueira Teixeira D, Leventhal PS. Skin rejuvenation using cosmetic products containing growth factors, cytokines, and matrikines: a review of the literature. Clin Cosmet Investig Dermatol. 2016 Nov 9;9:411-419. doi: 10.2147/CCID.S116158. PMID: 27877059; PMCID: PMC5108505.
Draelos ZD, Diaz I, Namkoong J, Wu J, Boyd T. Efficacy Evaluation of a Topical Hyaluronic Acid Serum in Facial Photoaging. Dermatol Ther (Heidelb). 2021 Aug;11(4):1385-1394. doi: 10.1007/s13555-021-00566-0. Epub 2021 Jun 26. PMID: 34176098; PMCID: PMC8322246.
11 Reasons to Add Vitamin C Serum to Your Skin Care Routine [Online] Available At: healthline.com/health/beauty-skin-care/vitamin-c-serum-benefits
Spada F, Barnes TM, Greive KA. Skin hydration is significantly increased by a cream formulated to mimic the skin's own natural moisturizing systems. Clin Cosmet Investig Dermatol. 2018;11:491-497, https://doi.org/10.2147/CCID.S177697