Have you ever been overwhelmed by the number of protein powders like Devotion Protein Powder on the market? It can be tough to know which one is right for you, especially when so many of them have subpar formulas and bland flavors.
That's where Devotion Nutrition comes in. This brand is known for its irresistibly delicious protein powders that are also meticulously crafted.
I first encountered Devotion Nutrition when I was looking for a new protein powder. I was immediately drawn to the brand's innovative Flex Flavors, which are zero-calorie and hassle-free.
But what really caught my attention was Devotion Nutrition's bold claim of producing "the most delectable protein powder ever formulated." I had to try it for myself!
I ordered a container of Devotion Protein Powder in the Chocolate Brownie Batter flavor. When it arrived, I was immediately impressed by the high-quality packaging. The powder itself was smooth and easy to mix, and the flavor was absolutely delicious!
I've been using Devotion Protein Powder for a few weeks now, and I'm still loving it. It's the perfect way to start my day or refuel after a workout.
Must Read Gundry MD Total Restore Reviews.
A Little About Devotion Nutrition
Devotion Nutrition was founded by people with a clear vision: to provide premium protein powders and other products that would help people from all walks of life reach their health and fitness goals.
They wanted to create products that would meet the needs of everyone, regardless of their background or dietary restrictions. Devotion Nutrition also wanted to make sure that its products were packed with the nutrients people need to stay active and healthy.
DevotionNutrition knows that there are a lot of protein powders on the market that are low-quality and overpriced. The Brand wanted to create a product that was better than anything else out there, so they worked hard to find the highest-quality ingredients and create a delicious and affordable product.
What Kind Of Protein Is Devotion Protein Powder?
Devotion Protein is a protein powder that comes in two flavors: Brownie Batter and Chocolate. The Brownie Batter flavor is incredibly chocolatey and rich. The formula is impressively thick, and it is recommended to adjust your water intake accordingly.
If you typically use two scoops of protein, I would recommend doubling your water intake or experimenting with different amounts until you find the consistency you like. In my experience, 16 to 20 ounces of water works best. Even with this amount of water, the shake still maintains its rich and creamy texture.
Devotion Nutrition protein powders are a great choice for anyone looking for a high-protein, low-sugar option. They come in two delicious flavors and offer 20 or 22 grams of protein per serving.
Devotion protein powders are also available in both Splenda and Stevia versions, making them a great choice for people with different dietary restrictions. In addition to shakes, these powders can also be used to make waffles, ice cream, and other desserts.
Devotion Nutrition has a website with a variety of recipes that feature protein powder. These recipes are creative and delicious, and they can help you find new ways to use protein powder in your cooking.
You can also use Devotion protein powders to make your own custom shakes. Add fruits, flex flavors, or other ingredients to create shakes that are both delicious and nutritious.
Devotion Brownie Batter Protein Powder Review
This protein powder delivers on its promise of a rich and chocolatey experience. The taste is similar to Chocolate Chocolate Chip Animal Whey, but the thickness of the protein powder enhances the overall chocolate intensity.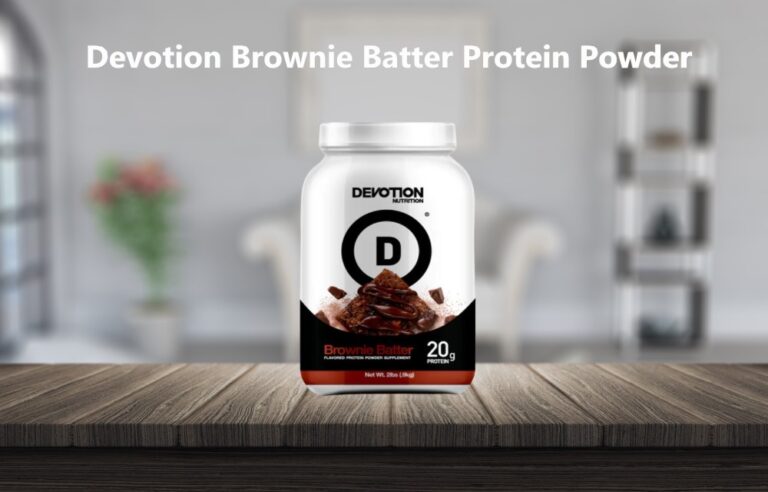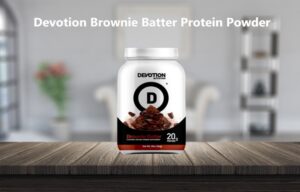 The Brownie Batter Devotion Protein has a dense and luxurious chocolate flavor with a delightful sweetness. The sweetness is light at first, but the full-bodied richness quickly takes over. This creates an immersive chocolate journey that truly lives up to expectations.
I would recommend this protein powder to anyone who loves chocolate. It is perfect for making shakes, smoothies, or baking. And it will surely satisfy your sweet cravings!
Devotion Flex Flavors Review
If you're looking for a protein powder flavoring that is both unique and delicious, look no further than Flex Flavors. These flavor packets offer a diverse array of flavors that can elevate the taste of any food or beverage.
What sets Devotion Flex Flavors apart is their use of natural ingredients. Each flavor packet is enriched with a gram of fiber and sweetened with stevia, a plant-based sweetener that is calorie-free and has no aftertaste.
Flex Flavors are perfect for adding a touch of sweetness and flavor to your favorite protein shakes, smoothies, yogurt parfaits, oatmeal, coffee, and more. They are also a great way to add extra protein to your diet.
Devotion Protein Powder's Formula
Devotion Protein is a unique protein powder that goes beyond the ordinary. It's packed with 22g of protein, 4g of carbs, 2g of fat, and 120 calories, plus several noteworthy additions.
Devotion Protein is transparent about its ingredients. It's 80% whey isolate and 20% micellar casein, and it's free of gluten, artificial sweeteners, and amino-spiking ingredients. It also includes a gram of MCTs and digestive enzymes.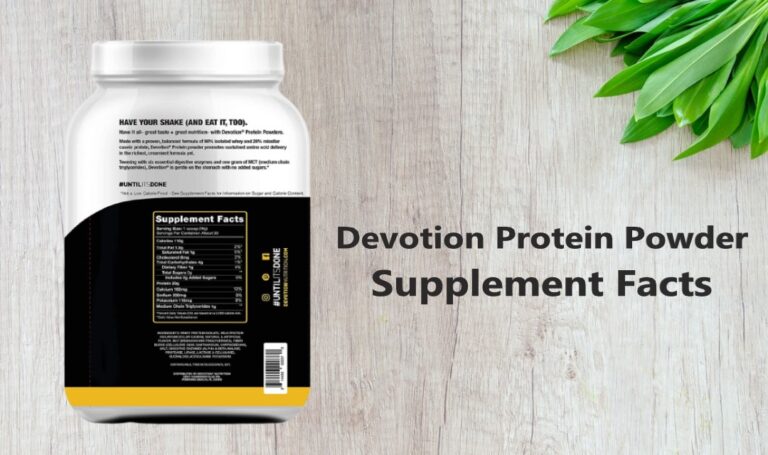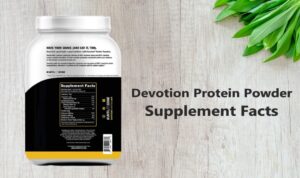 Is Devotion Protein Legit And Worth Trying?
Devotion Nutrition is a company that is truly dedicated to helping you achieve your health and fitness goals. Whether you are looking to lose weight, build muscle, or improve your overall health, Devotion Nutrition has the products and support you need to succeed. You should read Peak BioBoost Reviews.
The company's co-founders are passionate about providing their customers with the best possible nutritional support. They believe that everyone deserves to live a healthy and fulfilling life, and they are committed to helping you reach your full potential.
Devotion Nutrition offers a wide range of products, including protein powders, meal replacements, and supplements. They also have a team of experienced nutritionists who can help you create a personalized plan to reach your goals.
If you are serious about improving your health and fitness, Devotion Nutrition is the company for you. They offer the products, support, and expertise you need to succeed.
Conclusion: Is Devotion Protein Powder A No. 1 Protein Powder?
Devotion Protein's Brownie Batter flavor is undeniably delicious. It's so good, that you might even forget it's a protein powder! But does it live up to the brand's claim of being the best-tasting protein powder ever created? We think it does a pretty convincing job.
Devotion Protein is one of the best chocolate protein powders we've ever tried. It's smooth, creamy, and has a rich, chocolatey flavor. We're definitely going to keep using it as our go-to protein powder. While we don't think it's the absolute best protein powder on the market, we do think it's a great choice for people who are looking for a delicious and high-quality protein powder.