Probiotics have gained significant popularity within the health and wellness community. Both consumers and medical professionals are confident in the potential of probiotic supplements to enhance overall health, primarily by aiding digestion.
Whether you are contending with issues like irritable bowel syndrome (IBS), aiming to strengthen your immune system, or striving for a balanced gut, comprehending the fundamental aspects of probiotics, exemplified by Dr. Stephen Sinatra, empowers you to make an educated choice. You can confidently select a product that perfectly aligns with your requirements.
Within this comprehensive and forthright evaluation, I delve into the nuances of Dr. Stephen Sinatra's Cardiosense Probiotic. This preeminent brand in the health and wellness supplement realm is dedicated to fostering digestive well-being, elevating overall gut health, and reinforcing the immune system.
Peruse the following insights to determine if incorporating this supplement into your daily regimen is the right decision for you.
Dr. Stephen Sinatra Cardiosense Probiotic Overview
Supplement Name: Dr. Sinatra Probiotic Solutions
Rating: 4 out of 5
Supplement Form: Capsule
Average Price Per Bottle: $25
Dosage: 1 Capsule per Day
Capsules Per Bottle: 30 Caps
Active Ingredients: Experience the benefits of 10 billion cells in one proprietary probiotic strain, specifically Lactobacillus plantarum 299v.
Satisfaction Guarantee: Absolutely!
Used For: Your go-to daily probiotic for Gut Health.
How To Find: From the Official Website
I Tried Dr. Stephen Sinatra's Cardiosense Probiotic | Here's My Verdict
In my opinion, Dr. Stephen Sinatra Probiotic Solutions earns a solid 4 out of 5 stars, establishing itself as an above-average probiotic option. I'm genuinely impressed by how user-friendly this probiotic is.
With just one capsule required per day, in conjunction with a meal, you're all set to embark on your day. The capsules themselves lean towards the smaller side, a feature I truly appreciate.
Adding to its appeal, this probiotic doesn't necessitate refrigeration, making it exceptionally convenient for both daily use and travel. The specific strain employed here has caught my attention, and boasting 10 billion CFUs, it confidently vies for the role of a reliable daily probiotic.
However, a noteworthy drawback is its lack of allergy-friendliness. The inclusion of SOY, a significant letdown, leaves much to be desired.
Furthermore, the incorporation of potato starch doesn't align with my preferences for supplement ingredients.
Regrettably, this probiotic isn't suitable for children either.
All in all, I find the ease of use and the strain composition appealing, although the absence of allergy-friendliness is a notable downside.
Decoding The Ingredients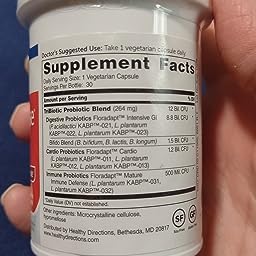 Experience the benefits of Dr. Stephen Sinatra Cardiosense Probiotic Solutions, boasting 10 billion CFUs and 1 powerful probiotic strain.
Delve into the extensive research on the probiotic strain Lactobacillus plantarum 299v, revealing a multitude of health advantages. This specific strain demonstrates exceptional resilience against stomach acids and bile, ensuring its successful journey to enhance your well-being.
L. plantarum has undergone thorough investigation for its potential to alleviate Irritable Bowel Syndrome and Crohn's Disease, effectively addressing symptoms like bloating, irregularity, and constipation.
Distinctive in nature, this strain stands out due to its unique ability to potentially contribute to heart health. It has the potential to maintain optimal blood pressure levels and promote overall circulation, making a positive impact.
The research suggests that L. plantarum could potentially aid in enhancing LDL and HDL cholesterol levels, further solidifying its role in promoting well-rounded health.
Is Dr. Stephen Sinatra Cardiosense Probiotic Safe To Use?
Dr. Sinatra's Probiotic Solutions should be used with awareness of potential allergies. These supplements contain SOY, which might pose a concern for those with allergies. However, it's important to note that they are gluten-free.
Alongside the main ingredients, this probiotic includes potato starch, hydroxypropyl methylcellulose, and magnesium stearate.
Possible Side Effects
I experienced no negative side effects while taking these capsules, which made me quite content. I genuinely enjoy trying new products without concerns about stomach issues or any other possible downsides.
With its 10 billion CFUs, I find it to be pleasantly gentle and suitable for daily use.
Is There Any Money-Back Guarantee Available?
Dr. Sinatra presents an incredible 100% satisfaction and money-back guarantee. You can explore the product over a span of 90 days, and if it doesn't meet your expectations, a full refund is available.
I find this guarantee highly impressive. It unquestionably enhances the value of this product.
How Much Does Dr. Stephen Sinatra Cardiosense Probiotic Cost?
A 30-capsule bottle of Dr. Stephen Sinatra Cardiosense Probiotic is priced at $25, amounting to approximately $0.83 per day for supplement consumption. This represents a reasonable and valuable investment, aligning well with the prevailing market rates for daily probiotic products.
Conclusion
Dr. Stephen Sinatra's products offer an effective probiotic strain, which holds the potential to alleviate digestive discomfort and promote a healthy functioning gut. The focus of Dr. Sinatra Cardiosense Probiotic on enhancing gut health and overall wellness positions this brand as an enticing option worth considering.
It's important to note that individual outcomes can differ. To find a supplement that best aligns with your requirements, you might explore other probiotics such as Bioma Probiotic or Happy Mammoth available in the market.
Always bear in mind to consult a medical professional prior to incorporating any dietary products into your routine. This step ensures the development of a secure and efficient supplement regimen tailored to your needs.
References
IBD vs. IBS: Definition, Symptoms, Similarities, Differences – Online Available At: https://www.webmd.com/ibs/ibs-ibd-differences
Kaźmierczak-Siedlecka K, Daca A, Folwarski M, Witkowski JM, Bryl E, Makarewicz W. The role of Lactobacillus plantarum 299v in supporting treatment of selected diseases. Cent Eur J Immunol. 2020;45(4):488-493. doi: 10.5114/ceji.2020.101515. Epub 2021 Jan 25. PMID: 33613097; PMCID: PMC7882405.
Kumar M, Nagpal R, Kumar R, Hemalatha R, Verma V, Kumar A, Chakraborty C, Singh B, Marotta F, Jain S, Yadav H. Cholesterol-lowering probiotics as potential biotherapeutics for metabolic diseases. Exp Diabetes Res. 2012;2012:902917. doi: 10.1155/2012/902917. Epub 2012 May 3. Erratum in: J Diabetes Res. 2022 Apr 1;2022:3952529. PMID: 22611376; PMCID: PMC3352670.