NativePath Collagen Peptides is a hydrolyzed bovine collagen (types I and III) powder supplement sourced from responsibly-raised cattle. It is a single-ingredient product.
Collagen is a naturally occurring protein that provides structure and strength to our skin, muscles, bones, and joints. Collagen production slows down with age, which can lead to visible signs of aging, such as wrinkles and joint pain.
Studies have shown that collagen peptides can help increase collagen production in our bodies, which may lead to benefits for skin, hair, nails, and joint health.
Based on the available research, adding a high-quality collagen supplement to your wellness routine is a sensible choice. Consider NativePath Collagen Peptides if you're looking for an excellent product from a reliable company.
Dr. Chad Walding and Dr. Brenda Walding, both physical therapists, developed NativePath.
It is operated and owned by Lexicon Health, a supplement manufacturer and health and wellness publishing company based in the United States. NativePath also sells probiotics, fish oils, greens, and turmeric in addition to collagen and other dietary supplements.
What Is Native Path Collagen Peptide?
NativePath Collagen is a bovine collagen powder drink supplement that offers a range of health benefits. It can help to enrich the skin, hair, and nails, improve digestion, promote bone health, alleviate joint symptoms, and strengthen the immune system.
The formula comes in four flavors: peach, chocolate, wild berry, and unflavored. It is free of gluten, soy, and dairy, but it is not suitable for vegetarians or vegans.
Quick Facts
| | |
| --- | --- |
| ⭐ Rating | 4.0 ★★★★ |
| 💊 Supplement Form | Powder |
| ⚠ Addictive | No |
| 🥕 Vegan | No |
| 🌿 Active Ingredients | Hydrolyzed Bovine Collagen (Types I and III) |
| 💲  Price | From $34.19 To $68 |
How Does Native Path Collagen Powder Work?
NativePath Collagen is a dietary supplement that contains collagen peptides, which are the building blocks of collagen. Collagen is the most abundant protein in the body, and it is found in the skin, bones, joints, and other connective tissues.
As we age, our natural collagen production declines. This can cause wrinkles, joint pain, and hair loss.
NativePath Collagen can help to improve these problems by providing the body with additional collagen.
A study published in the Journal of Medical Nutrition and Dietetics found that a nutritional supplement that included collagen, hyaluronic acid, and nutrients significantly improved wrinkle depth.
Another study, published in Nutrients, concluded that collagen peptides improved bone mineral density in postmenopausal women.
In addition to improving skin, joint, and bone health, NativePath Collagen may also have other benefits. For example, it contains anti-inflammatory agents which can reduce swelling in the body, including the skin and gut. It may also promote better digestion by maintaining the integrity of the gut lining.
Finally, collagen contains antioxidants, which kill free radicals and decrease oxidative stress. This can promote healing in the body and strengthen the immune system.
Ingredients Used In This Collagen-Based Supplement
NativePath Collagen contains two primary active ingredients:
Hydrolyzed Bovine Collagen Type I: This abundant protein is found in connective tissue, skin, blood vessels, gut, muscle tissue, and elsewhere. It can strengthen bones and repair cartilage, provide anti-aging benefits to the skin, and promote gut integrity.
Hydrolyzed Bovine Collagen Type III: This protein also exists in the body, although not quite as abundantly as type I. It's found in the skin, blood vessels, and muscles. Combined with type I, it provides skin and digestive health benefits.
The Science Behind The NativePath Collagen Formula
Here are some of the research that supports the benefits of NativePath Collagen:
A study published in the journal Polymer found that collagen can help to strengthen bones and repair cartilage.
Another study published in the journal Gene explored the benefits of collagen for skin and digestive health.
Overall, NativePath Collagen is a safe and effective way to support your health and well-being. It is made with high-quality ingredients and is backed by scientific research. If you are looking for a way to improve your bone health, skin health, and digestive health, NativePath Collagen is a great option. You can compare reviews of this supplement to Projoint Plus Reviews.
How to Make NativePath Collagen Peptides and When Will It Start Working?
To use the unflavored version, mix one scoop of powder thoroughly into 8 ounces of hot or cold liquid. NativePath Collagen Peptides mixes easily and is tasteless, making it easy to add to your daily cup of coffee or other beverage.
It is important to note that collagen supplementation takes time and consistent use to be effective. Some evidence suggests that you may start to see results after 6-8 weeks.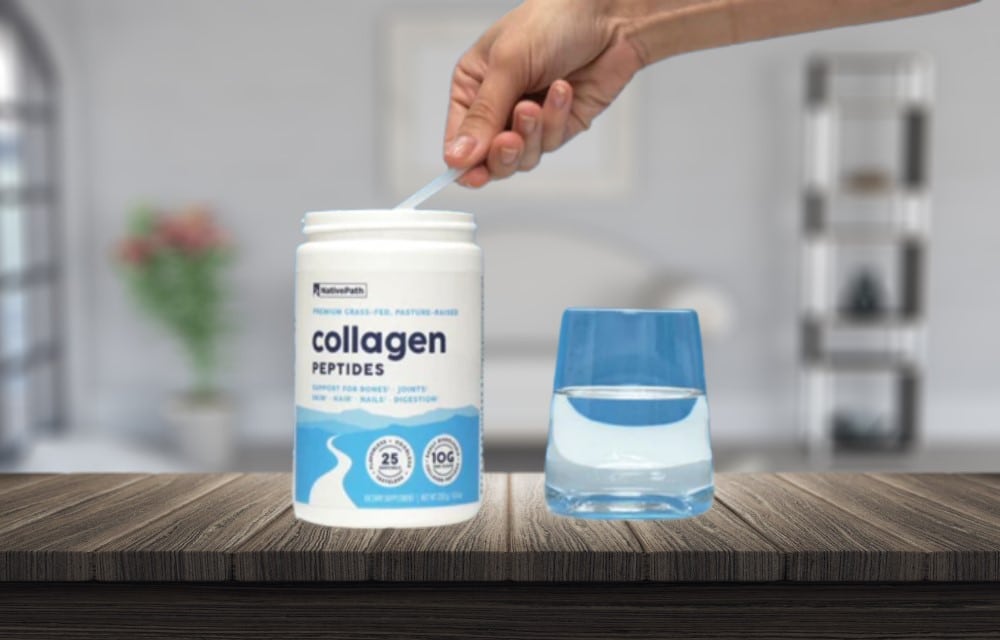 NativePath recommends using multiple scoops per day for optimal results. A single scoop of their product provides 10 grams of collagen, which is sufficient to produce results according to studies. However, additional evidence suggests that a larger dose may offer additional benefits. If you choose to use 2 scoops per day, keep in mind that it will double your cost.
NativePath Collagen Peptides also come in chocolate, vanilla bean, wild berry, and peach flavors. The preparation is the same for all flavors, but you may need to experiment with different liquids to find the best flavor combination. NativePath provides plenty of recipes to help you get started.
6 Benefits Of Native Path Collagen Supplement
NativePath collagen is a well-researched supplement that may support skin health, joint health, muscle strength, bone strength, and hair strength.
#1 Improved Skin Health
Collagen is a major component of the skin, and research has shown that collagen supplementation can improve skin elasticity, wrinkles, moisture, and firmness. NativePath collagen contains 10 grams of collagen per serving, which is the amount used in some studies that showed benefits for skin health.
#2 Enhanced Digestive Health
Collagen is a part of the connective tissue that lines the gastrointestinal tract, and it may help to improve gut health. One study showed that healthy women who took 20 grams of collagen daily experienced less bloat and constipation and overall improved digestive health. NativePath collagen contains 10 grams of collagen per serving, which is half of what was used in the study. However, the company says that you can increase your daily intake to two scoops (20 grams of collagen) for more support.
#3 Increased Muscle Strength
Collagen supplementation may also help to support muscle strength. One study showed that older men who took 15 grams of collagen daily and engaged in regular exercise (resistance training) showed a significant increase in muscle and strength. Collagen may have encouraged the development of the proteins necessary for muscular growth, according to research.
#4 Better Joint Health
According to research, collagen supplements may benefit connective tissues and reduce joint pain after exercise, which may contribute to improved joint health. Additionally, collagen supplements taken orally have been linked to anti-inflammatory and cartilage repair benefits. Studies that showed improvement in osteoarthritis management, maintenance of joint health, and joint pain in athletes used 5 grams of collagen daily. NativePath collagen contains 10 grams per serving, which is good. You should read 3 Naturals Triple Collagen Reviews.
#5 Helps Bone Strength
Collagen is essential for bone strength, and research has shown that collagen supplementation can help to increase bone mass density. One study showed that supplementation with 5 grams of collagen daily helped increase bone mass density by 2.1% over a period of 12 months.
#6 Boosts Hair Strength
Your collagen intake and hair health might be related in some way. The layer of skin that covers the hair roots on your scalp may be protected by collagen. Your hair is also primarily formed of keratin, a protein that needs collagen to exist.
Is It Legit And Worth A Try?
NativePath Collagen is usually thought to be safe for most healthy persons. This is because studies have shown that collagen doses ranging from 2.5–15 grams daily have no side effects. Additionally, other studies on collagen supplementation have reported no adverse side effects.
However, there have been reports of mild gastrointestinal symptoms such as bloating and an unpleasant taste in the mouth. Most of the time, these symptoms are minor and go away on their own.
NativePath Collagen does not contain potential allergens such as fish, shellfish, or eggs. As a result, it is suitable for persons with allergies. However, because this brand uses bovine collagen, it is not suitable for vegans or vegetarians.
It is always best to consult with your healthcare provider before taking any supplements to ensure they are safe for you.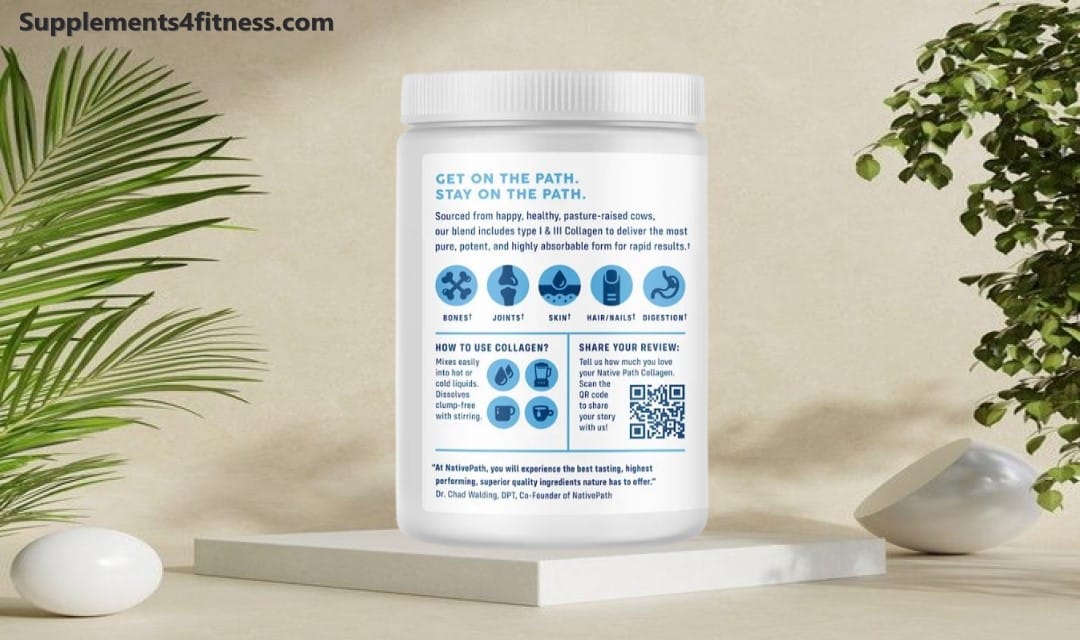 How Much Does NativePath Peptide Powder Cost?
Both a one-time purchase and a subscription are available under NativePath's pricing structure.
One-Time Purchase
The one-time purchase price for 250g (25 servings) is $38. The one-time purchase price for 560g (56 servings) is $68.
Subscription
The subscription price for 250g (25 servings) is $34.19 per bag. The subscription price for 560g (56 servings) is $61.19 per bag.
Shipping is free on all orders when shipped via subscription. For one-time purchases, standard shipping rates apply (typically around $6). If you order two or more bags, shipping is free.
NativePath offers a 365-day money-back guarantee on unopened bags. You can also get a refund on your first opened product. For example, if you ship back three opened products, you will only be refunded for one. If you ship back one opened bag and two unopened bags, you will be refunded for all three.
Takeaway
NativePath Collagen is a collagen drink made solely from bovine collagen. It promises to provide numerous health benefits, including:
Enriching the skin, hair, and nails
Improving digestion
Strengthening the bones
Enhancing joint health
The cost of this supplement is reasonable, yet it just contains one ingredient. There are many NativePath Peptide Protein Powder reviews online, with differing opinions. Some users reported great health benefits from the product, while others said the results were disappointing.
NativePath Peptide contains one ingredient, bovine collagen, which is generally safe. There is a small chance that you may experience some mild side effects, but this is not common. You should stop using the product if you develop any unpleasant symptoms. It is always a good idea to see a doctor before taking a new supplement to get medical clearance.
FAQs: Consumers Also Ask
Q: What Do Reviews Say About NativePath Collagen?
A: Abundant online reviews for NativePath Collagen Protein Powder reflect positivity. Users have reported numerous health benefits, including improved digestion and reduced joint pain. While some experienced limited effects, a few individuals noted mild side effects associated with NativePath Collagen.
Q: How Should Native Path Peptides Be Consumed?
A: The recommended consumption involves mixing one 10g scoop of powder with a glass of water. It's important not to exceed this prescribed amount.
Q: What Constitutes the NativePath Return Policy?
A: The manufacturer has established a 60-day return policy for both sealed and inspected unsealed items. Dissatisfied customers can contact NativePath Collagen's customer service number for return instructions within 60 days of the delivery date. Shipping fees are the responsibility of the customer.
Q: Is NativePath Peptide Considered Cruelty-Free?
A: There is no evident indication that the manufacturer adheres to cruelty-free practices. The absence of such information on their website, coupled with their omission from PETA's list of animal-friendly brands, suggests they might not abstain from animal testing.
Q: Where Can Native Path Collagen Be Purchased?
A: NativePath Collagen is available for purchase on the official manufacturer's website as well as through various online and offline retailers. The retail price on the official site is $29.
Q: What Distinguishes Native Path Collagen From its Competitors?
A: Setting itself apart, the manufacturer provides a dedicated support community on Facebook, exclusively catering to users of their brand. This platform serves as a space for inquiries and discussions related to the product lineup.