Plexaderm is a brand of skincare products created by Sheer Science. According to the manufacturer, Plexaderm " decreases under eye bags, dark circles, and wrinkles from the face."
But can topical treatments actually make a difference in the appearance of the skin and minimize wrinkles? Is Plexaderm supported by clinical research as effective? Are there any ambiguous additional substances in it? And how do actual users react to this approach?
We will examine the components of three of Plexaderm's most well-known products in this article: Plexaderm Rapid Reduction Serum (their eye cream), Reset & Replenish Pads, and Daily Moisturizer. We will discuss whether we believe these goods are likely to be successful or whether we believe they are a waste of money.
We'll discuss actual customer feedback for these goods, draw attention to certain dubious research studies supported by industry, and offer our opinion on the likelihood that Plexaderm will be beneficial.
About Plexaderm Serum
Plexaderm Rapid Reduction Eye Serum, an innovative facial rejuvenation cream, professes to address various concerns, including wrinkles, eye puffiness, and fine lines, among others. According to the manufacturer, its effects can endure for up to 10 hours post-application, and you can confidently apply your makeup just 5 minutes after using it.
Ingredients In Plexaderm Serum
Plexaderm Serum stands as one of Plexaderm's most renowned products, boasting nearly 10k Amazon reviews. The brand boldly asserts that its Rapid Reduction Serum can work its magic in mere minutes, diminishing under-eye bags and seamlessly smoothing fine lines and wrinkles.
Collagen
Collagen, a potent anti-aging skincare ingredient, takes center stage. However, Plexaderm opts for soluble collagen, a variant that, in comparison to the more prevalent hydrolyzed collagen, may offer a somewhat less efficient approach. Soluble collagen, being larger in molecular size, differs from hydrolyzed collagen, which is broken down into amino acids, potentially enhancing skin penetration.
A comprehensive review published in the Antioxidants journal noted the effectiveness of hydrolyzed collagen in enhancing skin hydration and elasticity when applied topically, though it made no specific mention of soluble collagen. Consequently, we cautiously regard this ingredient as potentially beneficial.
Hexapeptide-8
Hexapeptide-8 is a proven anti-aging powerhouse. Clinical research affirms the peptide's remarkable ability to reduce the appearance of wrinkles when applied topically.
While this cream undoubtedly incorporates some efficacious components, it's worth noting the presence of certain additive ingredients we recommend steering clear of.
Phenoxyethanol
Phenoxyethanol, a preservative, has been shown in medical studies to potentially irritate the skin and eyes. Plexaderm Rapid Reduction Serum also contains ethylhexylglycerin, another preservative with a relatively better safety profile. Nevertheless, we advise caution when using skincare products with preservatives, especially in the sensitive eye area.
This product does exhibit potential effectiveness in reducing the appearance of eye bags and refining fine lines and wrinkles, thanks to its inclusion of two scientifically supported ingredients. However, our overall recommendation leans towards caution, given the presence of two distinct preservatives.
Furthermore, we advocate for the preference of hydrolyzed collagen over soluble collagen for more effective wrinkle reduction.
Plexaderm Serum's Customer Reviews And Complaints
Before delving into customer reviews, I want to share my personal experience with Plexaderm Serum. I approached this product with considerable skepticism, particularly in addressing my wrinkles and under-eye bags. However, after encountering some remarkably persuasive before-and-after images, I decided to take the plunge. My Amazon order arrived punctually, and I couldn't help but notice how it resembled the products showcased in commercials. With great anticipation, I embarked on a week-long trial.
The initial application felt nothing short of magical. It genuinely delivered on its promises, leaving me genuinely thrilled. Nevertheless, there's a twist in the tale: subsequent uses seemed to result in the product drying out or losing its effectiveness, despite my meticulous adherence to the cap, lid, and plunger instructions.
Here's the aspect that perplexed me: the product's instructions lacked clarity regarding its compatibility with my makeup routine. Essentially, it advised a 20-minute waiting period, specifically if I had applied a water-based moisturizer, not an oil-based one. I followed this guidance, and I must admit, it left my skin feeling excessively dry. While it initially provided some smoothing effects on my clean, dry face, it eventually dried to an uncomfortably tight and rigid sensation, almost as if it had been left on for an extended duration. Moreover, it had a somewhat gritty texture. Removing it required vigorous scrubbing, and it didn't easily come off. Even when it did work, which was for a limited time, it didn't last beyond four hours. Consequently, my skin ended up even drier, and my wrinkles, unfortunately, appeared more pronounced.
You should also read about other products that we reviewed: Toneur Eyecare Pro | Verfons Eye Cream | Celyn Eye Cream
Customer Reports And Complaints
The serum unquestionably delivers results, but it requires a brief waiting period after application, during which you should avoid moving your face. However, it's important to manage expectations as its effects are not long-lasting. Here are a couple of customer testimonials:
Ellen says, "I applied the product around my eyes and mouth, and to my surprise, the outcome was disappointing. When applied, even lightly, it made my skin feel rough, making it impossible to apply makeup without smudging or washing away the product. Within a mere 2.5 seconds, all my lines and bags reappeared. I won't use this again unless they improve its texture."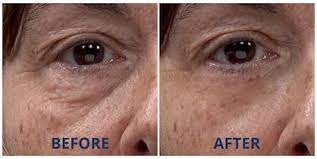 DBeauty Reviewed Plexaderm Serum: One of YouTube's highly regarded Plexaderm reviews hails from the "DBeauty" channel. This video stands out as unsponsored, featuring the creator conducting a hands-on product demonstration. In addition, she presents compelling before-and-after visuals, accompanied by a thorough assessment of Plexaderm's effectiveness. Notably, the content creator is seen utilizing the Plexaderm Rapid Reduction Serum.
Scientific Background And Clinical Trials
Results from a clinical trial are displayed on Plexaderm's website along with the company's health claims. We were unable to locate any information regarding the publication of this trial in an accredited medical journal or a link to a complete study.
According to the "Clinical Study" section, "We examined an audience of 43 people."
We advise customers to completely ignore claims of clinical efficacy based on research that was supported by skincare companies. This is particularly true if the brand refuses to disclose the complete study and it doesn't appear that the study has been published in any medical publications.
Because there is such a significant potential for bias in manufacturer-funded research that the findings are essentially useless in our eyes, we only take into account clinical trials that have been published in peer-reviewed scientific publications when evaluating a brand. As peer-reviewed scientific and medical journals are the gold standard for product research, when we quote clinical trials on Illuminate Health, we're citing clinical trials that have been published in such journals.
What Is the Duration of Effectiveness for Plexaderm?
Many consumers frequently inquire about the longevity of Plexaderm's effects, as the usage guidelines provided by the brand do not specify the duration of each tube's effectiveness.
Plexaderm's Rapid Reduction Cream is available in a package containing 15 to 18 resealable tubes, with each tube holding 0.5 milliliters (mL) of the product. To put this in perspective, 0.5 mL is roughly equivalent to 0.1 teaspoons.
Plexaderm advises using an amount roughly equivalent to "half the size of a pea," which we estimate to be approximately 0.15 mL. Based on this estimation, each resealable tube is expected to last for four applications. Consequently, the $61.98 Plexaderm product available at Walmart, which includes 18 individual tubes, is projected to provide 72 days of usage. This results in a cost of less than $1 per day for the product, which is notably reasonable.
We strongly encourage Plexaderm to include information regarding the expected duration of each tube's effectiveness in its product descriptions.
How to Apply
Ensure your skin is clean and dry.
Dispense a small amount of serum onto your fingertip.
Apply it gently and evenly, being careful to avoid the eye area.
Allow 10 minutes for optimal results to manifest.
How Much Does It Cost?
Many internet vendors sell Plexaderm Products. At the time this article was updated, the price structure for a 30-day pack was as follows:
$65.95 at Walmart
$59.95 at Amazon
When shipping costs are taken into account, Amazon is now about 15% less expensive than Walmart for a 30-pack of Plexaderm.
Conclusion
Despite the fact that all of the Plexaderm products we examined had several preservatives, we cannot recommend any of them despite the fact that they all featured beneficial components. We advise staying away from cosmetics with preservatives.
Our team believes that Plexaderm Serum is their best formulation because it has a special combination of active ingredients that have been shown to operate both singly and synergistically (i.e., they have an additive impact) in clinical testing. We believe that using this product will increase skin moisture.
Although Plexaderm is quite expensive when compared to other skincare companies, especially if purchased from Walmart. Also, we urge the company to disclose how many servings are contained in each tube because, at the moment, it is impossible to determine how long each product will last.