According to its manufacturer, Rush Remedy Anti-Aging Cream is a sophisticated skin moisturizer and skin care cream that contains age-defying components that may help minimize the appearance of deep wrinkles and fine lines on the skin. It may replace dermal proteins and support skin cells on healthy skin, potentially reducing the appearance of skin unevenness.
It is said to assist optimal moisture retention to increase skin radiance, firm or tighten sagging skin, and minimize puffiness beneath the eyes. This cream may also be useful in disguising the appearance of visible pores in people who have an uneven skin finish due to visible pores.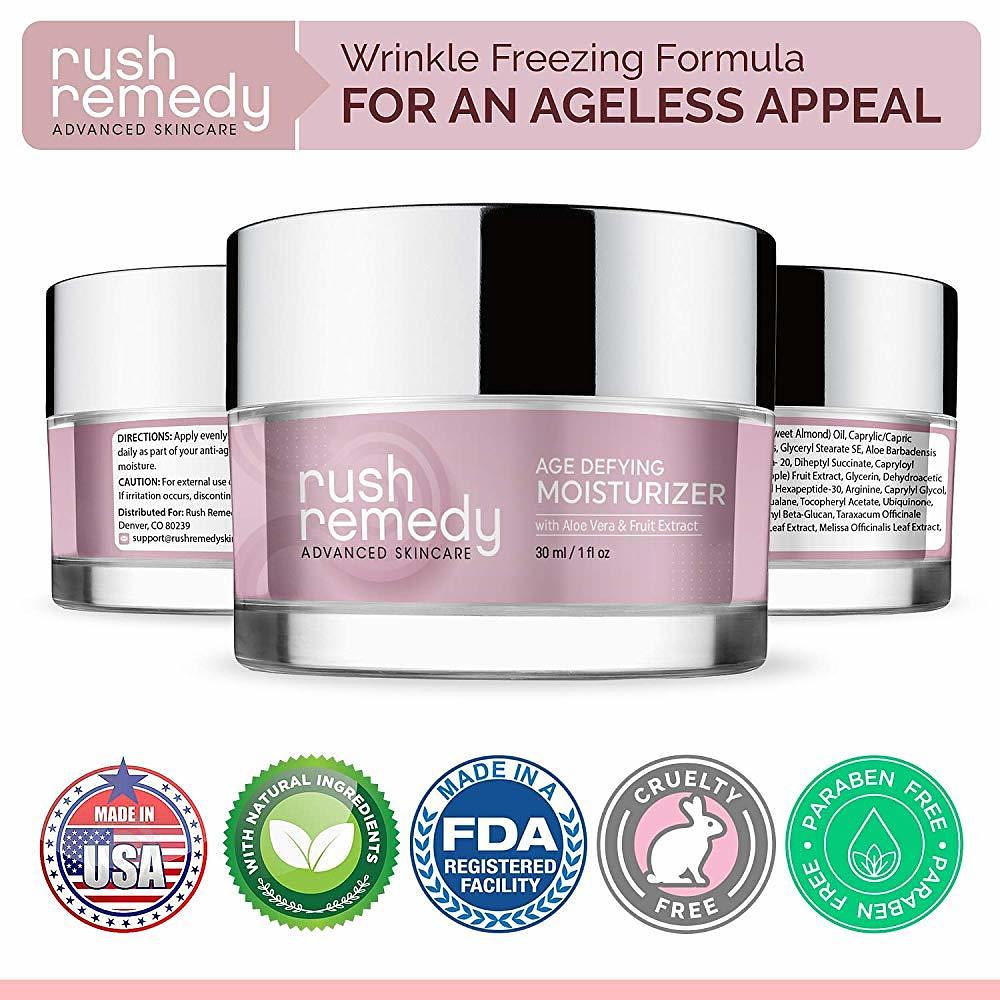 Rush Remedy Anti-Aging Cream may also help fine-tune and lift slack skin, according to the manufacturer. Such promises are widespread in anti-aging creams, particularly those that are new to the market.
Who Makes Rush Remedy And Where Does It Come From?
Rush Remedy is the name of the firm that makes this so-called enhanced skincare moisturizer. They are a US-based company with an official website, and it appears that they are selling the product through Luscious Luxury Beauty, a distributor. The product is called Rush Remedy Advanced Skincare.
The developer of this cream states that it is designed to defend against the harsh elements of weather, such as UVA and UVB radiation, which can accelerate aging. This, they say, is due to the components.
Rush Remedy Cream is available on major merchant websites, making it a not-so-new skincare product. Furthermore, the maker is actively pushing it to increase its popularity on numerous digital platforms, implying that they are confident in the cream.
Ingredients Of Rush Remedy Age-Defying Moisturizer
Due to the fact that the skin is one of the most delicate organs in the body, most skincare firms have a history of employing safe chemicals in their formulas.
Rush Remedy Age-Defying Moisturizer appears to be in the same boat, as the majority of its ingredients are well-known to be safe and can be found in other top-rated age-defying creams. The following are some of the key ingredients:
Aloe Vera: According to a study published in the journal Toxicology Letters, aloe vera may help lessen the detrimental effects of weather factors by promoting skin hydration and reducing the action of free radicals on the skin. When using the cream, it also reduces the greasy feeling.
Sweet Almond: According to a study published in the Journal of Complementary Therapies in Clinical Practice, sweet almonds may offer skin-supporting qualities such as curing dry skin and boosting skin tone. This product's creator also claims that it helps to relieve the skin from oxidative stress, enhance skin collagen levels, and restore the skin's youthful appearance.
Citric Acid: Citric acid is supposed to aid in the maintenance of the skin's PH level and may also aid in the cleansing of clogged pores. According to one review paper published in the Indian Journal of Dermatology, it can also be used as a component in treating issues that affect skin pigmentation.
Arginine: This amino acid may have anti-aging benefits. This component may also enhance collagen syntheses, as well as aid speed up skin restoration and wound healing, according to a study published in the Journal of Advances in Wound Care.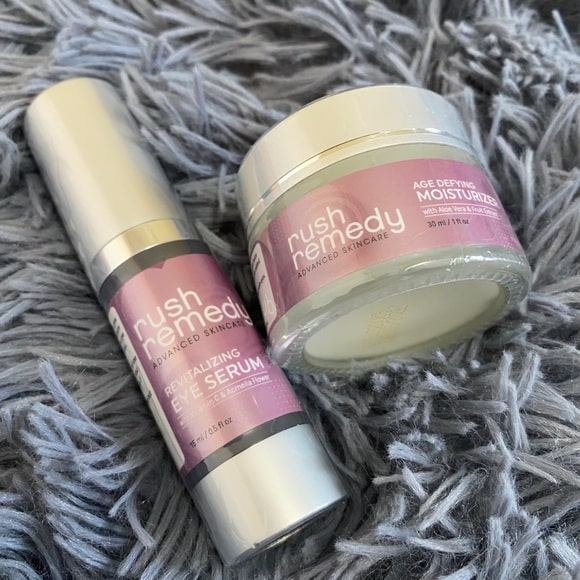 What Is the Process of Rush Remedy Anti-Aging Cream?
This product claims to provide a non-invasive solution to saggy, wrinkled, and discolored skin by supplying your skin with the required nutritional support. The skin gradually loses moisture faster than it can retain as it ages. As a result, it is exposed to the impacts of the weather, such as severe temperatures and potentially harmful sun rays. This product claims to provide a protective barrier by keeping your skin wet.
It may also help your dermal skin layer operate properly, particularly in terms of collagen formation. Aging has a detrimental impact on the body's collagen synthesis, which means your skin may begin to show signs of aging such as decreased suppleness, wrinkle formation, and skin dryness.
Rush Remedy Advanced Skincare Cream may help to reduce the effects of aging on your skin by keeping it nourished, hydrated, and smooth.
Key Features Of Rush Remedy Moisturizer
Deep and shallow wrinkles are said to be reduced by using this product.
May create the appearance of perfect skin by concealing prominent pores.
It's possible that this supplement will help you retain more water and keep your skin hydrated.
Plays an important role in decreasing the effects of free radical stress on the skin.
What Is the Best Way to Use Rush Remedy Anti-Aging Cream?
Wash and dry your face before applying Rush Remedy Cream in dots and massaging it in a circular motion until it is completely absorbed.
What is the price of Rush Remedy Advanced Skincare Cream?
You must first enter your name and address on the official website in order for them to know where to ship the bottle; only then will you be able to view the price.
Is there a free trial for Rush Remedy Anti-Aging Cream?
Yes, they presently give one trial sample per customer, however, interested consumers must provide their mailing address in order to receive the product.
Final Verdict on Rush Remedy Anti-Aging Cream
The fact that anti-aging skincare supplements like Rush Remedy promise noninvasive remedies to skin aging is one of the reasons they're becoming more popular. That is, they claim to be able to substitute unpleasant skin firming injections as well as expensive laser treatments.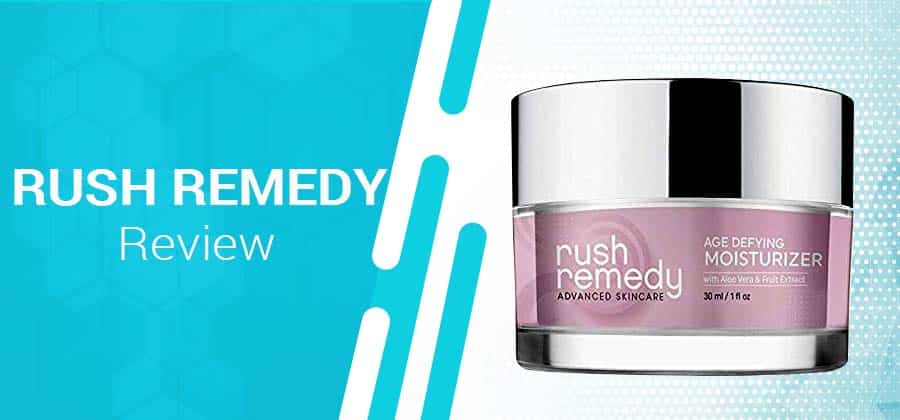 This product, in particular, may help maintain youthful skin by enhancing suppleness and promoting healthy collagen formation, which, according to research, is what causes sagging skin and structural degradation of the skin. The product also claims to increase skin hydration and water retention, as well as prevent cracking and rough skin.