In the continuously evolving realm of cannabis, the THCA flower stands out as a fascinating subject of interest for enthusiasts and the curious. While many individuals are well-acquainted with THC, the compound responsible for the renowned cannabis "high," fewer are familiar with its precursor, THCA. This guide extensively explores the intricacies of the THCA flower, delving into its advantages, potential side effects, and distinctive differentiation from THC.
Whether you are an experienced cannabis user or a newcomer seeking knowledge, this article assures you a comprehensive comprehension of this unique element within the cannabis plant. We invite you to accompany us on this journey through the multifaceted world of THCA flowers.
Read Also: THC Gummies For Sleep: The Ultimate Guide For 2023
A Comprehensive Guide to the Best THCA Flower
We'll delve into the best brands selling THCA flower strains in 2023. Before getting further, let's learn the basics about the THCA Flower Strain, such as what it is, how it works, and what's in this strain that makes it so powerful.
What Is The THCA Flower?
THCA flowers refer to cannabis blossoms distinguished by their notable concentration of tetrahydrocannabinolic acid (THCA). These strains are known for their low delta-9 THC content, which is the primary psychoactive component in cannabis. While delta-9 THC is responsible for the euphoric effects, THCA serves as its non-psychoactive precursor. When exposed to heat, THCA transforms into THC, leading to well-known psychoactive responses.
Products labeled as THCA flowers are cannabis blooms harvested during their early growth stage. This harvesting occurs before the sun's rays or ambient heat can catalyze the conversion of THCA into THC. Such products have found a dedicated following among cannabis enthusiasts who are intrigued by the potential benefits of THCA but wish to avoid the intoxicating effects associated with THC.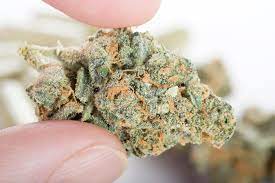 How Does the THCA Flower Strain Work?
The THCA flower strain operates through a chemical transformation known as decarboxylation, which occurs when subjecting THCA flowers to heat, such as when smoking or vaporizing. This process converts THCA into THC, unlocking the psychoactive properties of the latter and inducing the quintessential cannabis sensations. However, in its unheated state, THCA remains non-psychoactive, suggesting potential medicinal benefits. Ongoing scientific research explores this field.
What Constitutes the THCA Flower?
The primary component of THCA flowers is tetrahydrocannabinolic acid (THCA), a cannabinoid found naturally in the cannabis plant. It is predominantly present in raw cannabis before the decarboxylation process, which transforms it into THC.
How to Utilize the THCA Flower
Using THCA flowers follows a similar approach to conventional cannabis blooms. Here's a comprehensive guide to harnessing the potential of THCA flowers, along with tips to enhance your experience:
1. Versatile Consumption Methods: THCA flowers offer versatility in consumption methods. While smoking and vaporizing are popular choices, culinary enthusiasts may opt for crafting edibles or infusions.
2. Combustion: Combustion enthusiasts should have a well-rolled joint or a finely crafted pipe. Ignite and savor the experience.
3. Vaporization: Vaporizer users should ensure their device is compatible with dry herbs, fill the chamber with the ground flower, and calibrate it to the preferred temperature to enjoy the resulting vapor.
4. Culinary Ventures: For those interested in culinary applications, decarboxylation is the initial step. This involves subjecting the flower to specific heat levels, catalyzing the transformation of THCA into its psychoactive counterpart, THC. After decarboxylation, the activated flower can be blended with oils or butter, enabling the creation of delectable recipes.
Determining Your Ideal Dose
If you're new to THCA, moderation is essential. Begin with a modest quantity. It's important to note that THCA's psychoactive effects are milder in its raw form, offering a unique experience compared to traditional THC-rich cannabis.
Stay Tuned To Get All The Necessary Information To Make A Wise Decision.
1# Elevate Your Cannabis Experience with Bloomz: Our Top Pick for Premium THCA Flower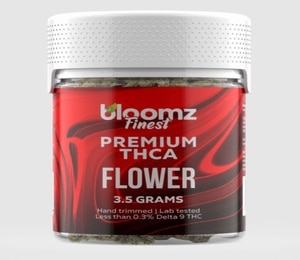 Bloomz has earned its remarkable score through its outstanding THCA flower offerings. With a diverse selection of strains, captivating flavors, and remarkable potency, Bloomz guarantees an unparalleled cannabis journey. Their unwavering commitment to excellence and strict adherence to legal THC limits solidify their status as the go-to choice for cannabis enthusiasts.
Bloomz Brand Overview
Bloomz stands out as a distinguished brand, offering top-tier THCA flower selections. Their captivating lineup of strains and flavors ensures an unmatched cannabis experience. Their core values include quality, potency, and a steadfast commitment to adhering to legal THC guidelines, making them a dependable and highly regarded choice.
Brand Reputation
Bloomz, the brainchild of the renowned Binoid, has received accolades from reputable platforms such as CBDTop10, CBDThinker, Industrial Hemp Farms, 420 VapeZone, and many others.
Packaging Insights
Bloomz's packaging is not only vibrant but also functional, designed to captivate and cater to cannabis enthusiasts. The AirHeadz THCA quick-rolls are housed in cylindrical containers, ensuring both convenience and protection.
Potency Options
Bloomz offers its THCA flower in two quantities, 3.5g,and 7g, allowing users to fully immerse themselves in the benefits of THCA.
Product Offerings
Prime THCA Flower: Tailored for those who seek an undiluted and robust THCA experience.
Gold Line Elite THCA Flower: Crafted for connoisseurs in pursuit of a plush and sophisticated THCA moment.
AirHeadz THCA Quick-Rolls: Perfect for individuals seeking immediate THC satisfaction while on the go.
Variety of Strains
Indica: GMO doh, Gushers, Airheadz, Han Solo, Grape Frosty, and Platinum OG.
Sativa: Pineapple OG, Guava Cookies
Hybrid: Donny Berger, MAC, Grape Jelly Donut, Sprite, Gelato, Sour Bubblegum, and Gelato Punch
Benefits
Striking and practical packaging
A wide variety of strains and flavors
Gold Line Elite THCA Flower for a premium experience
Convenient AirHeadz THCA quick-rolls for those with active lifestyles
Rigorous adherence to legal THC thresholds below 0.3% delta-9 THC
Cons
Pricing details may vary depending on the product type and quantity.
Extraction and Production Techniques
Bloomz utilizes the CO2 extraction technique in collaboration with an ISO 9001-certified facility. They maintain strict compliance with GMP standards, ensuring meticulous extraction and production processes that result in top-tier botanical offerings.
Consumer Feedback
One satisfied Bloomz customer shared their experience: "Sampling Bloomz's Gold Line Elite THCA Flower was eye-opening. The flavors were exceptional, and the potency was commendable. Easily one of the best THCA flowers I've ever tried!"
Bloomz consistently receives praise for the flavors, potency, and overall quality of its THCA flower range.
Third-party Lab Analysis
Demonstrating its commitment to transparency and integrity, Bloomz submits its products to rigorous third-party lab analysis. Lab results are readily available on their official website, underscoring their dedication to quality and accountability.
2# Indacloud: Elevating Cannabis with
Unparalleled Flavor and Design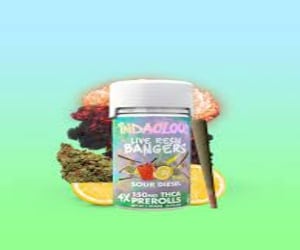 Indacloud has established a distinguished presence in the cannabis industry, earning recognition for its exceptional quality, diverse strain selection, unwavering commitment to eco-consciousness and safety, pioneering innovations, and exceptional customer interactions.
Indacloud Brand Overview
Indacloud, a trailblazing name in the world of cannabis, introduces organically cultivated offerings that redefine the cannabis experience. With an unwavering commitment to excellence and forward-thinking, Indacloud's mission is to enhance well-being and elevate everyday life.
Brand Credibility
Indacloud holds a commendable reputation among CBD enthusiasts, as echoed by glowing testimonials from respected platforms such as EmilyReviews, The Daily Beast, and The High Times.
Packaging Insight
Indacloud cannabis containers exude sophistication while championing eco-friendliness. Indacloud's choice of legible fonts caters to discerning consumers, ensuring both clarity and visual appeal.
Strength
Indacloud's reputation is reinforced by its potent cannabis selections, promising unparalleled experiences for our clientele.
Pros
An environmentally conscious approach
Transparent operations
Top-tier product quality
Cons
Exclusive availability online
Limited product availability
Extraction and Production Techniques
Indacloud employs steam distillation and collaborates with an ISO 13485-certified facility. We uphold stringent sanitation and quality standards, harnessing cutting-edge technology for efficient botanical essence extraction and production.
Consumer Feedback
Indacloud consistently garners praise for its premium quality, strain diversity, outstanding service, and memorable customer experiences. The Indacloud website is a testament to this, teeming with positive feedback. One satisfied patron shared on the Indacloud site,
"The smoothness and strength took me by surprise."
Third-party Lab Analysis
Experience quality assurance with Indacloud. Indacloud's meticulous third-party lab evaluations guarantee product purity. Indacloud's dedication to transparency shines through, with lab findings readily accessible on the website, strengthening consumer trust.
3# Fresh Bros: Mastery in Crafting Flower Blends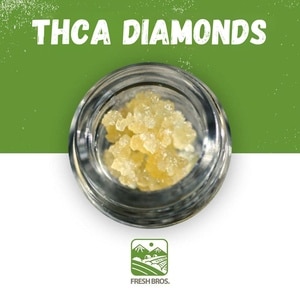 Fresh Bros' signature Flower Blend has gained recognition for its top-tier quality, captivating aroma, and wide range of strains. Users praise its smooth smoking experience and unmatched potency.
About the Fresh Bros Brand
Fresh Bros shines as a leader in the delta-8 flower industry, celebrated for their artisanal creations. Their unwavering commitment to excellence, innovation, and customer satisfaction ensures a cannabis experience that delights and elevates.
Brand Credibility
Fresh Bros has solidified its reputation in the industry with glowing endorsements from reputable platforms like the Better Business Bureau and CFAH.org.
Product Offerings
Fresh Bros. THCA Blossom: Designed for the discriminating consumer, this product offers an in-depth exploration of the fundamentals of THCA.
Packaging Insight
Fresh Bros presents a refined packaging aesthetic, blending vibrant colors with an elegant logo. Clear product details improve the design, adding visual appeal and information.
Strength
Fresh Bros takes pride in delivering cannabis products with remarkable and consistent potency, ensuring a memorable experience for users.
Pros
Wide strain selection
Exceptionally positive feedback
Stringent lab evaluations
Cons
Limited shipping options
The availability of stock may be limited
Extraction and Production Techniques
Fresh Bros operates from an ISO 14001-certified facility and employs a solvent-free extraction method. Their commitment to energy conservation, waste minimization, and recycling underscores their dedication to producing environmentally conscious, premium extracts.
Consumer Feedback
The brand's THCA product page on its official website is adorned with glowing testimonials. One satisfied user shared:
"It's nothing short of miraculous! It addresses pain swiftly and more effectively than any other product I've tried. Wholeheartedly endorsed!"
The brand's outstanding 4.8-star rating on its website is more proof of its dedication to excellence.
Third-party Lab Analysis
Integrity is at the core of Fresh Bros' operations. Their rigorous third-party lab evaluations guarantee the integrity of their products, and for maximum transparency, lab results are shown openly on their website.
4# Elyxr: Leading the Way in Slow-Burn Cannabis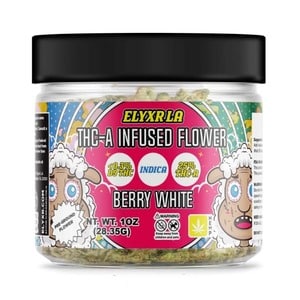 Elyxr is renowned for its top-tier offerings, eco-friendly practices, and innovative cannabis strains. Users are captivated by its remarkable potency, refined flavors, and commitment to responsible consumption.
Elyxr Brand Overview
Elyxr proudly stands as a premier name in the cannabis industry, offering environmentally conscious, premium products. Their mission is to enhance the cannabis experience by providing unmatched quality and pioneering selections for enthusiasts.
Brand Reputation
Esteemed platforms such as NewsDirect, Trustpilot, and Outlookindia have commended Elyxr, affirming the brand's esteemed status in the industry.
Packaging Insight
Elyxr's packaging, inspired by the splendor of nature, reflects their eco-friendly values. Their dedication to preserving product freshness and purity is evident, underscoring their goal to enhance the cannabis journey.
Potency
Elyxr's cannabis offerings promise users an extraordinary and fulfilling experience, thanks to their exceptional potency.
Pros
Elyxr offers several advantages, including:
A Diverse Product Lineup
A Strong Commitment to Sustainability
Comprehensive Third-Party Evaluations
Cons
Elyxr faces certain limitations, including the challenges of navigating legal and regulatory complexities.
Extraction and Production Techniques
Elyxr works with a facility that has received ISO 22716 certification and uses a cold-press extraction technique. They strictly adhere to safety protocols, utilizing cutting-edge methods to capture the essence of natural ingredients while maintaining product quality.
Customer Feedback
Elyxr's cannabis range is unparalleled. Several customers have left positive reviews on their website, with many giving it five stars. One particularly enthusiastic review on their product page reads:
"By far the most potent flower offering. The fact that it's pre-ground is a bonus, saving me the hassle."
Third-Party Lab Analysis
Elyxr's steadfast dedication to wellness is evident in its stringent third-party lab evaluations. They proudly display lab findings on their website, demonstrating their dedication to transparency.
5# DreamLand Organics: A Harmonious Symphony of THCA Flower Strains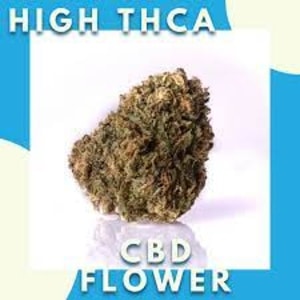 In the cannabis industry, DreamLand Organics has made a name for itself and is frequently praised by its user base. For those in pursuit of an unmatched cannabis journey, DreamLand Organics is the brand of choice.
DreamLand Organics Brand Overview
DreamLand Organics is a luminary in the cannabis sector, celebrated for its vast and premium THCA Flower collection. Their unwavering dedication to purity and excellence ensures a transcendent experience for users. Their innovative spirit and commitment to customer delight position them as a vanguard in the cannabis landscape.
Brand Credibility
Since its founding, DreamLand Organics has built a reputable brand, garnering endorsements from prestigious websites like NewsDirect and Industrial Hemp Farms, among others.
Packaging Insight
DreamLand Organics uses kid-safe, eco-friendly containers to display their THCA flower variety. Their dedication to maintaining the strength and freshness of their products is clear. Depending on their preferences, consumers can choose between stylish glass containers and resealable pouches.
Strength
DreamLand Organics offers a wide range of potency in their THCA flower selection, so every customer can discover their ideal fit.
Offerings
DreamLand Organics is proud of its diverse selection of premium THCA flower strains, each of which radiates unrivaled quality and power. Their carefully chosen selection accommodates the wide range of cannabis aficionados' tastes.
Strain Insights
Indica: A serene and blissful strain tailor-made for relaxation and promoting restorative slumber.
Sativa: An upbeat and energizing variety that's great for sparking inspiration and sustaining daily alertness.
Hybrid: A well-balanced combination of calm and energy that works for any situation.
Pros
Varied strain offerings
Unwavering transparency
Elite product quality
Cons
Shipping Limitations
Premium pricing
Extraction and Production Techniques
DreamLand Organics works with an ISO 22000 accredited facility and uses ethanol extraction. Their usage of organic materials, waste reduction programs, and use of environmentally friendly packaging all demonstrate their eco-conscious mindset.
Consumer Feedback
Customers frequently compliment DreamLand Organics on the quality, potency, and effects of their THCA flower selection; as a result, the company has an impressive 4.6-star rating. Positive reviews abound on their official website, with one especially happy user noting,
"It keeps me alert and efficient, without pain acting as a deterrent."
Third-party Lab Analysis
DreamLand Organics stresses product purity while promoting wellness. Their products are put through extensive evaluations by independent laboratories, and the results are openly shown on their website.
Selecting Premium THCA Flowers: Eligible Criteria
Brand Credibility & User Feedback
In our pursuit of uncovering the very best THCA Flowers, we delved deeply into brand narratives and user testimonials. These firsthand accounts offered us invaluable insights into the brand's reputation and how users perceive their THCA products.
Third-party Laboratory Assessments
Ensuring the safety and premium quality of THCA flowers remains our top priority. We placed utmost importance on flowers that have undergone rigorous external laboratory evaluations, ensuring they not only meet but also exceed industry standards.
Strength & Efficacy
We focused on THCA flowers with a robust potency profile. High THCA concentrations usually result in distinct and desirable effects.
Terpene Spectrum
The aromatic compounds, or terpenes, play a significant role in shaping the sensory experience of THCA flowers. We gave preference to flowers with a rich and diverse terpene profile, which enhances both aroma and flavor.
Cultivation Practices
We tended to choose THCA flowers that were grown in pure, natural environments. In keeping with our eco-conscious ideals, we preferred flowers that were cultivated sustainably and organically, which made for a healthier and cleaner eating experience.
Variety of Strains
Recognizing the diverse tastes of cannabis enthusiasts, we ensured our selection spanned various strain categories, including indica, sativa, and hybrids. This diversity provides multiple flavors and effects, catering to a wide range of preferences.
Our thorough research methodology was designed to meticulously identify the finest THCA Flowers available on the market. This curated list serves as a guiding light for those embarking on an unparalleled cannabis journey.
Key Takeaway
The realm of cannabis encompasses a broad spectrum, and the THCA flower stands as just one among its numerous intriguing elements. Its potential advantages, along with its non-intoxicating attributes, render it an enticing option for many. Nevertheless, as with all substances, adopting an informed and circumspect approach holds paramount importance. It is advisable to regularly seek guidance from healthcare professionals, particularly if you are currently using other medications or have underlying health issues. Always bear in mind that the voyage with THCA flower, akin to all cannabis products, is profoundly personal. Tune into your body's signals, make necessary adjustments, and relish the journey.