Insta Tox Reviews – When preparing for a date night or an important event, achieving your best appearance is paramount, isn't it? However, there are instances where makeup alone falls short. While foundation can conceal discoloration and a good primer can minimize the visibility of pores, what about those stubborn deep lines and wrinkles?
Enter Serious Skincare Insta Tox, a promising solution to this predicament. Marketed as a "targeted age eraser," this product instantly fills in deep lines and wrinkles, smooths and blurs enlarged pores, and reduces the appearance of crow's feet and under-eye puffiness.
Though it may seem too good to be true, numerous customer reviews for Insta Tox vouch for its effectiveness. These reviews serve as a testament to the product's performance.
Now, the question remains: does Insta Tox genuinely deliver instant results in erasing deep lines and wrinkles? To answer this, we must assess the product's formulations, including its key ingredients, and examine the available research that either supports or refutes their efficacy in skincare.
Furthermore, we will provide you with some Insta Tox reviews to give you an understanding of what customers truly think about this product.
About Serious Skincare Insta Tox
Insta Tox by Serious Skincare is an instant anti-wrinkle and skin-smoothing cream. It is specifically designed to target the skin on the face and neck, effectively concealing wrinkles and enhancing the overall appearance of the skin. Additionally, this cream helps improve skin texture and provides a smoother and more youthful look.
This product utilizes clinically proven ingredients that are deemed safe for long-term use. Moreover, Serious Skincare Insta-Tox is suitable for all skin types, including sensitive, dry, oily, or combination skin. Regardless of skin type, individuals can utilize this cream to reduce the visibility of both emerging and stubborn wrinkles on the face and neck, achieving a vibrant complexion.
Is Insta-Tox composed of scientifically proven anti-aging ingredients, or are these claims merely promotional? Are there any questionable ingredients present in the formula? How does it compare in terms of price to other anti-wrinkle creams? Furthermore, what are the experiences and opinions of actual users regarding the effects and descriptions of Insta Tox?
You may also wanna read about Botox Face Serum.
To address these inquiries, we will assess the product's formulation, including the key ingredients and the supporting research behind their efficacy in skincare. Additionally, we will provide authentic reviews of Serious Skincare Insta Tox, allowing you to gain insights into the perspectives of customers who have used the product.
Who manufactures Insta Tox Serum?
Insta Tox Serum is produced by Serious Skin Care, a company established approximately twenty years ago by Jennifer Flavin-Stallone, a former model who personally experienced the challenges of severe acne. After extensively searching worldwide for a solution to her skin concerns, she decided to co-found the brand in collaboration with the original creators.
The company claims to prioritize innovation, cutting-edge science, and extensively researched ingredients in the development of its products. In addition to Insta Tox Serum, they offer a comprehensive range of skincare solutions, including cleansers, eye creams, body moisturizers, serums, exfoliators, and beauty tools.
What Kind Of Ingredients Serious Skin Care Is Using In Their Products?
Serious Skin Care takes a comprehensive approach by utilizing a combination of natural and synthetic ingredients across its product range, rather than relying on a single key ingredient. In the following section, we will explore the essential components found in Serious Skin Care's best products.
Vitamin C
For years, Vitamin C has been celebrated as a top-notch anti-aging ingredient. As a potent antioxidant, it safeguards the skin against harmful free radicals, unstable molecules that contribute to the premature formation of wrinkles and fine lines.
Furthermore, Vitamin C aids in diminishing dark spots, evening out skin tone and enhancing radiance. Research even suggests that when applied topically, Vitamin C significantly reverses age-related structural changes by influencing the synthesis of collagen and elastin.
Serious Skin Care's Serious-C3 Plasma C Clean Facial Cleanser incorporates this powerful ingredient. However, it is important to note that while Vitamin C offers these benefits, it is more effective when used in leave-on products such as Vitamin C serums. Using a face wash with Vitamin C allows limited time for the ingredient to work before rinsing it off.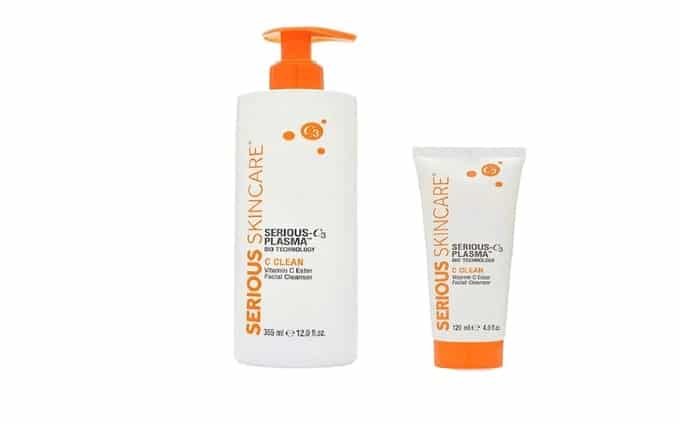 A recommended antioxidant serum is Carrot & Stick The Concentrate, which contains a rich blend of plant and marine antioxidants that combat visible signs of aging and protect against free radical damage. Incorporate it into your morning skincare routine.
Peptides
Serious Skin Care Reverse Lift Cream boasts a high concentration of the anti-aging peptide acetyl hexapeptide-8, also known as Argireline. This six amino acid peptide is derived from SNAP-25, a botulinum toxin substrate.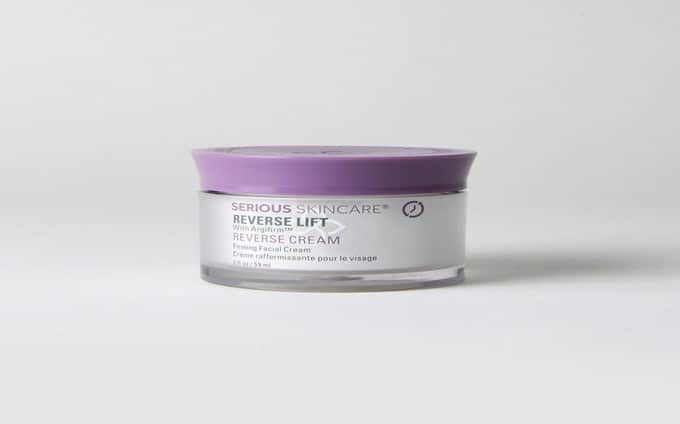 Its mechanism involves limiting the activation of neurotransmitters responsible for facial muscle movement, such as those engaged in smiling or frowning. By inhibiting the nerves that trigger facial muscle contractions, the cream reduces the appearance of wrinkles and restricts subtle facial expressions.
For an effective solution, we recommend Carrot & Stick The Repair Serum, which combines acetyl hexapeptide-8 with multiple amino acids proven to combat fine lines and wrinkles, promote natural collagen production, and firm the skin.
Retinol
Retinol is the favored anti-aging ingredient highly recommended by dermatologists and skincare experts. Its clinical efficacy in minimizing the appearance of fine lines and wrinkles, improving uneven skin tone, restoring skin firmness, and reducing the visibility of enlarged pores has been well-documented.
However, it is worth noting that retinol can potentially lead to side effects such as skin dryness, peeling, and irritation.
Serious Skincare Retinol Renewal Gel incorporates retinol alongside a blend of nine different alpha hydroxy acids (AHAs).
To optimize the benefits of retinoids, it is advised to use them at night. We recommend incorporating a retinoid oil serum into your skincare routine, specifically one containing Hydroxypinacolone Retinoate, an ingredient that provides similar benefits with reduced irritation.
How Does Insta Tox Serum Work?
Serious Skincare Insta-Tox is a skincare product designed to temporarily firm and tighten the skin, effectively reducing the visibility of fine lines and wrinkles. According to the manufacturer, Insta Tox serum contains powerful quantities of top anti-aging ingredients, acne-fighting acids, and skin-softening moisturizers, making it a promising option to enhance your skin's appearance.
When applied consistently, Insta Tox skincare serum may quickly provide a revitalized look to your skin. It is recommended to use a small amount of the product and gently pat it onto the skin, allowing it to dry and set for a few minutes. Once the product has fully dried, you can proceed with applying makeup or other skincare products.
Ingredients Of Insta Tox – The Secret Behind This Miracle Serum
This remarkable serum contains a carefully selected blend of ingredients, each with its own unique benefits:
Copper Gluconate
Copper Gluconate, utilized as a dietary supplement for copper deficiency, effectively detoxifies and purifies the skin. Extracting excess oils from pores minimizes breakouts and regulates natural sebum levels. With notable antioxidant properties, copper gluconate neutralizes harmful free radicals, thus protecting skin cells and combating premature aging. As a result, it has the potential to be a beneficial ingredient in anti-aging skincare products.
Camellia Oleifera Leaf Extract
Renowned in skincare products, including wrinkle creams, Camellia Oleifera Leaf Extract possesses properties that can significantly benefit the skin. Rich in polyphenols, it acts as a potent scavenger of free radicals, while other components offer additional advantages. According to a noteworthy research study published in the National Library of Medicine, this ingredient demonstrates a prolonged moisturizing effect and the potential to enhance skin micro-relief. It effectively boosts hydration, resulting in a plump and supple appearance, thereby reducing the visibility of wrinkles.
Retinyl Palmitate
Recognized for its exceptional antioxidant abilities, Retinyl Palmitate acts as a guardian for the skin, protecting it against free radicals, environmental toxins, and UV radiation. An intriguing research study published in the National Library of Medicine highlights the specific effects of retinoids on decreasing skin roughness, emphasizing their role in treating photoaging and facial wrinkles. However, it is important to note that the effectiveness of Retinyl Palmitate in wrinkle creams may vary based on factors such as concentration, formulation, and individual skin sensitivity.
Phenoxyethanol
Phenoxyethanol serves as a common preservative in cosmetic products, effectively preventing bacterial growth. This colorless liquid with a mild odor is frequently incorporated into various cosmetics. When used in accordance with regulatory standards and in low quantities, it is considered a generally safe preservative. Clinical research demonstrates that phenoxyethanol exhibits efficient antimicrobial properties against bacteria, yeast, and mold, making it a reliable preservative for cosmetic formulations.
Butylene Glycol
Butylene Glycol, widely used in cosmetic formulations, especially wrinkle treatments, acts as a humectant, solvent, and skin conditioning agent. This nearly colorless liquid plays a vital role in creating cosmetics and personal care items, offering numerous benefits for maintaining healthy skin. Research indicates that it is humectant alcohol, effectively attracting and retaining moisture. By hydrating the skin and improving moisture retention, Butylene Glycol reduces dryness in wrinkle creams, resulting in plumper skin and a visible reduction in wrinkles.
Magnesium Aspartate
Magnesium aspartate, a mineral supplement commonly used as a magnesium salt of aspartic acid, addresses low levels of magnesium in the blood. Studies suggest that it aids in skin hydration and moisture retention, making it a valuable component of moisturizers and emollient creams. Furthermore, it replenishes the skin's natural moisture barrier, ensuring suppleness, softness, and optimal hydration.
Zinc Gluconate
Zinc Gluconate, a nutritional supplement containing the zinc salt form of gluconic acid, plays a crucial role in maintaining optimal health. This essential trace element acts as an antioxidant, fortifying the immune system and participating in vital biological processes.
Benefits
The product has the potential to effectively reduce wrinkles in the facial and neck area temporarily.
It has the ability to enhance the youthfulness and smoothness of the skin.
The manufacturer assures the safety of the product, including its application around the delicate eye area.
It is specifically designed to deliver temporary cosmetic advantages, such as tightening and smoothing effects on the skin.
The serum demonstrates its effectiveness within a matter of minutes.
Drawbacks
The serum can only be purchased through the company's official website.
There is no option for a free trial of this product.
The price is relatively high, particularly considering that the effects are short-term and the product needs to be regularly purchased for ongoing usage.
Related Products
Insta Tox Reviews | Final Words
Experts unanimously agree that finding the right products to maintain youthful and wrinkle-free skin is essential. However, this task can be challenging due to the saturated market, which offers various skin solutions.
Fortunately, there are products like Serious Skincare Insta-Tox that cater to all skin types, providing an opportunity to reclaim youthful skin.
This product effectively conceals wrinkles and fine lines throughout the day. Immediate results are visible upon application, with long-term benefits becoming evident after months of consistent use.
Furthermore, Serious Skincare Insta-Tox seamlessly integrates into daily skincare routines and can be used alongside makeup. Its user-friendly application and quick drying time allow for the efficient utilization of other skincare products, amplifying their benefits.
Moreover, numerous satisfied customers attest to the product's ability to fulfill its promise of restoring a youthful appearance. It successfully diminishes unattractive wrinkles and fine lines, unveiling a smooth and radiant complexion. Users also note its effectiveness in reducing skin exposure, a crucial factor in combatting signs of aging.
Another noteworthy feature is that Serious Skincare Insta-Tox is fragrance-free, appealing to those who prefer a customizable scent experience by choosing their own perfume.
In summary, it is evident that this cream is suitable for individuals seeking an instant lift in skin appearance while maintaining their preferred makeup routines, all without concerns about adverse effects. We firmly believe that this product will effectively minimize visible signs of skin aging, including wrinkles and dryness.
FAQs: Questions And Answers
Q: How Should I Use Insta Tox Serum?
A: Cleanse and pat your face thoroughly before applying the product. Shake the tube gently, then apply a small quantity over the wrinkled areas. Smooth it out with your palms and close the tube after use. You can also mix it with your eye cream, face cream, or neck cream for instant firming treatment.
Q: What Can Insta-Tox Serum Do For You?
A: Insta-Tox promotes smoother, tighter, and younger-looking skin by reducing lines and wrinkles. It gives the appearance of noticeably smoother skin with smaller pores.
Q: How Much Does Serious Skincare Insta Tox Cost And Where To Buy It?
A: You can purchase Insta Tox serum from their official website. The product is priced at $30.60 per unit on the manufacturer's website, with discounts available for two or three units. Prices may vary on other retailer websites.
Q: Is There Any Money-Back Or Return Policy Of Serious Skincare Insta-Tox Available?
A: Yes, there is a 30-day money-back guarantee. If you're unsatisfied with the results of the product, contact customer care for a full refund. The manufacturer offers a full refund within 30 days if you are unsatisfied with the product. However, the shipping cost is not included in the refund.
Q: Can You Apply Makeup While Using InstaTox?
A: Yes, light makeup can be applied on top of InstaTox. Ensure that the product is dry before applying makeup or other skin creams.
Sources
Pullar JM, Carr AC, Vissers MCM. The Roles of Vitamin C in Skin Health. Nutrients. 2017 Aug 12;9(8):866. doi: 10.3390/nu9080866. PMID: 28805671; PMCID: PMC5579659.
Retinol's potential side effects: Experts weigh in [Online] Available At: https://curology.com/blog/retinols-potential-side-effects-experts-weigh-in/
Koch W, Zagórska J, Marzec Z, Kukula-Koch W. Applications of Tea (Camellia sinensis) and its Active Constituents in Cosmetics. Molecules. 2019 Nov 24;24(23):4277. doi: 10.3390/molecules24234277. PMID: 31771249; PMCID: PMC6930595.
Fu PP, Xia Q, Boudreau MD, Howard PC, Tolleson WH, Wamer WG. Physiological role of retinyl palmitate in the skin. Vitam Horm. 2007;75:223-56. doi: 10.1016/S0083-6729(06)75009-9. PMID: 17368318.
Dréno B, Zuberbier T, Gelmetti C, Gontijo G, Marinovich M. Safety review of phenoxyethanol when used as a preservative in cosmetics. J Eur Acad Dermatol Venereol. 2019 Nov;33 Suppl 7:15-24. doi: 10.1111/jdv.15944. PMID: 31588615.
Aizawa A, Ito A, Masui Y, Ito M. Case of allergic contact dermatitis due to 1,3-butylene glycol. J Dermatol. 2014 Sep;41(9):815-6. doi: 10.1111/1346-8138.12603. PMID: 25182293.