Discover the buzzed-about Phix Philler Peptide Serum, renowned for its ability to diminish fine lines, wrinkles, and enhance skin elasticity. Unveiling the truth behind this sensational product is the focus of this article.
By analyzing its ingredients, benefits, customer feedback, pros, and cons, and comparing it to similar offerings, you'll obtain a comprehensive understanding of whether the Phix Philler Peptide Serum truly justifies the investment.
The Phix Philler Peptide Serum is an advanced solution that claims to minimize the visibility of fine lines, wrinkles, and promote collagen production. It harnesses the power of peptides, such as argireline, acetyl hexapeptide-8, and copper peptides.
There are several Phix Philler Peptide Serum reviews available online. While some users have experienced positive results, others have had a different experience.
Legit Information About Phix Philler Peptide Serum
Phix Philler Peptide Serum, a skincare serum packed with antioxidants, peptides, and marine ferment. Its mission is clear: repair the skin barrier, shield against aging at the molecular level, and diminish signs of time.
Dubbed "Botox in a bottle," this product excels at reducing the appearance of fine lines and wrinkles, akin to the effects of Botox injections. You may also read about Botox Face Serum.
Key functions include:
Restoring the skin barrier
Shielding at the molecular level
Stimulating collagen production
Minimizing expression lines
This serum successfully reduces lines and wrinkles, especially crow's feet, smile creases, and expression lines thanks to a strong peptide combination that includes argireline.
Harnessing the power of marine bioferment, it enhances the skin's natural moisture capacity with hyaluronic acid, slows collagen breakdown, and fortifies the structural integrity of our skin, resulting in a tighter, more contoured look. Additionally, it combats signs of digital aging with potent antioxidants like acai, vitamin C, and resveratrol.
When compared to other anti-aging products, the Phix Philler Serum stands out for its superior ingredients, rapid absorption, and non-greasy finish.
However, it is crucial to remember that each person's skin is unique, and individual results may vary. Potential side effects, such as skin sensitivity, rash, or itching, may occur, especially for those with sensitive skin.
We recommend conducting a patch test before incorporating the product into your routine to check for any irritation or allergic reactions.
While the legitimacy of the Phix Philler Peptide Serum is evident, this review aims to determine if it lives up to its name. All essential aspects will be uncovered, providing you with the knowledge you need.
How Does Phix Philler Peptide Serum Work?
Experience the power of the Phix Philler Peptide Serum. This remarkable serum combines a special blend of peptides, including argireline, acetyl hexapeptide-8, and copper peptides. Together, these peptides team up to revitalize your skin.
Unveil the magic of argireline, a renowned peptide often hailed as 'Botox in a bottle.' Watch as it effortlessly eases facial muscles and diminishes those pesky wrinkles. Meanwhile, acetyl hexapeptide-8 works its wonders by calming muscle contractions, revealing a smoother complexion.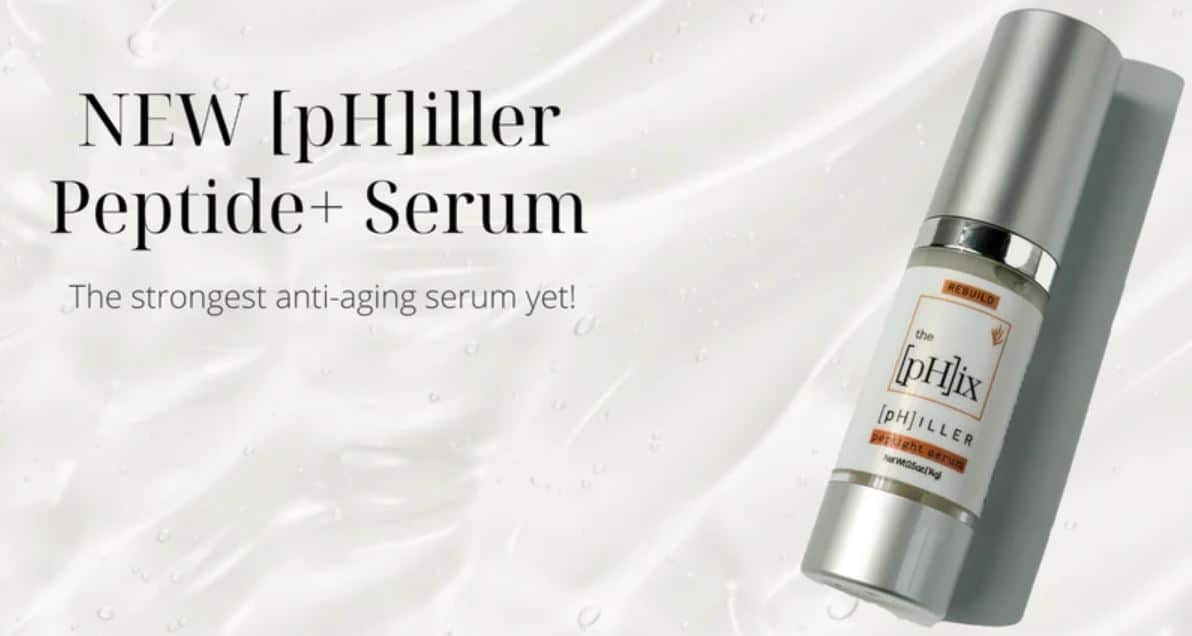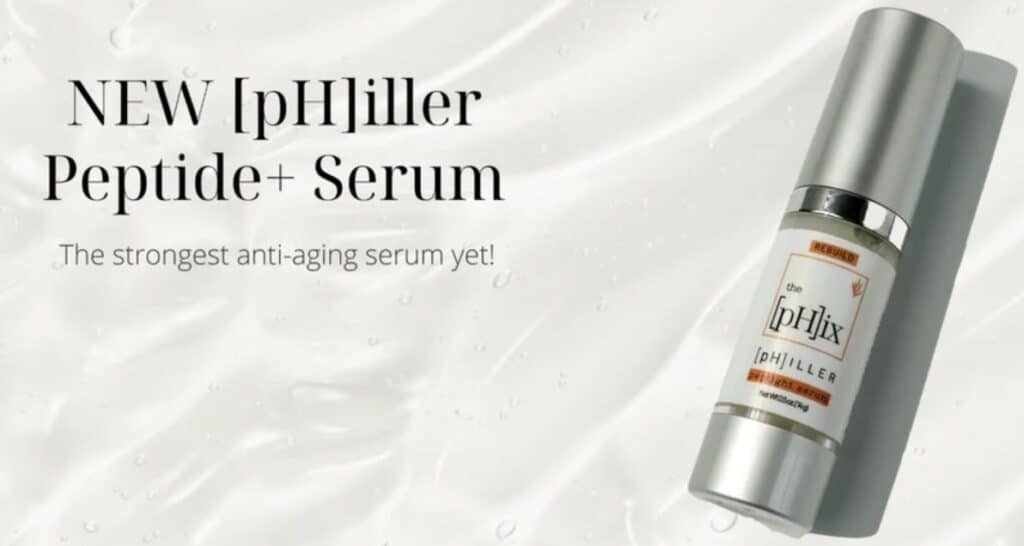 Feel the strength of copper peptides as they unleash their antioxidant properties, invigorating collagen synthesis and rejuvenating your skin's elasticity. Embrace the long-term benefits that our peptide blend offers—say goodbye to fine lines and wrinkles, revel in improved skin texture, and indulge in enhanced elasticity.
What Are The Ingredients In Phix Philler Peptide Serum?
The primary ingredients used in this product are as follows:
Argireline (Hexapeptide-8): This incredible signaling peptide works like botox to relax your facial muscles, reducing tension and softening the appearance of lines and wrinkles. Accordingt to Byrdie, Argireline stops the muscular contraction that causes wrinkles.
Nannochloropsis Oculata (Algae) Extract: Derived from marine microalgae, it swiftly tightens your skin, instructing the collagen-producing fibroblasts to contract and pull the epidermis closer for a beautifully contoured look. As per a review of Nannochloropsis Oculata published by ScienceDirect, Both D. salina and Nannochloropsis oculata have the ability to considerably boost skin cell proliferation and energy metabolism. A component from the former offers outstanding skin-tightening properties.
Acmella Oleracea: This remarkable ingredient mimics the effects of botox, relaxing your facial muscles, easing muscle tension, and diminishing the appearance of lines and wrinkles, while also reducing the severity of future ones.
Fermented Marine: Fermented Marine Bacteria is derived from bacteria found deep in the Antarctic oceans, this active ingredient boosts hydration and enhances the skin's energy metabolism. It effectively slows down collagen breakdown and promotes rejuvenation, specifically collagen III production.
Full Ingredient List: Glycerin, Ascorbic Acid (Vitamin C), Xanthan Gum, Carbomer, Acetyl Hexapeptide-8, Triethanolamine, Caprylyl Glycol, Dimethicone, Cetyl Alcohol, Epilobium Angustifolium (Willow Herb) Flower/Leaf/Stem Extract, Hydrolyzed Wheat Protein, Hydrolyzed Soy Protein, Tripeptide-10 Citrulline, Tripeptide-1, Lecithin, Butylene Glycol, Acmella Oleracea Extract, Sodium Acrylate/Sodium Acryloyl Dimethyl Taurate Copolymer, Glyceryl Stearate, Caprylic/Capric Triglyceride, Acrylamide/Sodium Acrylate Copolymer, Mineral Oil, Trideceth-6, Propylene Glycol, Diazolidinyl Urea, lodopropynyl Butylcarbamate, Tetrasodium EDTA, Phenoxyethanol, Sodium Benzoate, Alcohol, Potassium Sorbate, Water, Nannochloropsis Oculata (Algae) Extract, Pullulan, Allantoin, Euterpe Oleracea (Acai Berry) Fruit Extract, Pseudoalteromonas Ferment Extract.
Benefits
Calms and nourishes the skin.
Provides hydration for your skin.
Helps prevent scars caused by blemishes.
Reduces breakouts and shields against harmful free radicals.
Diminishes wrinkles, giving you a youthful appearance.
Boosts collagen production and soothes inflammation.
Minimizes the visibility of wrinkles.
Formulated with high-quality ingredients.
Absorbs quickly into your skin.
Non-greasy and suited for both oily and dry skin.
Enjoying positive customer reviews overall.
Drawbacks
Some users may experience skin irritation.
Results may vary from person to person.
Comparatively higher cost than other products.
Consistent use is necessary to maintain results.
How To Use Phix Philler Peptide Serum Without Side Effects?
Here's the perfect way to use Phix Philler Peptide Serum with zero side effects:
Start by cleansing your face gently and drying it with a soft pat.
Use your fingertips to apply a few drops of the serum.
Begin massaging the serum into your skin, starting from the forehead and working down to the neck.
Complete your routine by applying a moisturizer.
Remember, it's wise to conduct a patch test before incorporating any new skincare product. Simply apply a small amount of the serum to a small area of your skin, like the inner arm. Before examining any reactions, give it 24 hours. If there are none, feel free to use the product confidently on your face.
Similar Products
In Summary
To summarize, the Phix Philler Peptide Serum presents itself as a promising skincare solution with multiple advantages. Nevertheless, it is crucial to conduct a patch test prior to regular usage. You can conveniently acquire this product directly from the Phix website.
The decision of whether or not to purchase the Phix Philler Peptide Serum ultimately depends on your individual skincare needs and preferences.
If you are seeking a product that can effectively diminish the appearance of fine lines and wrinkles, enhance skin texture, and provide molecular-level protection, then this product may be a suitable choice for you.
As always, it is important to bear in mind that everyone's skin is unique, and what may work for one person may not yield the same results for another. Therefore, it is recommended to consult with a skincare professional should any concerns arise.
Sources
Argireline for Skin: Benefits and How to Use [Online] Available At: byrdie.com/argireline-for-skin-4771349
Hemaiswarya Shanmugam, Ramaraj Sathasivam, Raja Rathinam, Kulanthaiyesu Arunkumar, Isabel S. Carvalho, Chapter 3 – Algal Biotechnology: An Update From Industrial and Medical Point of View, Editor(s): Debmalya Barh, Vasco Azevedo, Omics Technologies and Bio-Engineering, Academic Press, 2018, Pages 31-52, ISBN 9780128158708, https://doi.org/10.1016/B978-0-12-815870-8.00003-6.
Corinaldesi C, Barone G, Marcellini F, Dell'Anno A, Danovaro R. Marine Microbial-Derived Molecules and Their Potential Use in Cosmeceutical and Cosmetic Products. Mar Drugs. 2017 Apr 12;15(4):118. doi: 10.3390/md15040118. PMID: 28417932; PMCID: PMC5408264.