Do you experience snoring during sleep and seek an effective solution? Are you considering purchasing the SnoreDestroy Tongue Retainer? Would you like to determine its authenticity as an anti-snoring device and assess its value for your investment? I invite you to peruse my candid review for insights on SnoreDestroy's efficacy and its worthiness of your consideration.
What Is SnoreDestroy Tongue Retainer?
SnoreDestroy is a device designed to gently stimulate the tongue muscles, thus opening the airways, which is the root cause of snoring. This innovation aims to facilitate peaceful, uninterrupted sleep. Crafted from lab-tested silicone, it prioritizes comfort and delivers optimal results. Additionally, it guarantees enhanced airflow, promising quieter nights.
While the legitimacy of SnoreDestroy is apparent, the primary focus of this review is to determine if it truly lives up to its name. This comprehensive review will unveil all the essential information about this product.
How Does Snore Destroy Operate?
Snore Destroy operates by gently guiding your tongue into the device's bulb until it makes contact with both sides. The flaps then extend outward, with one positioned upwards and the other downwards, ensuring optimal comfort.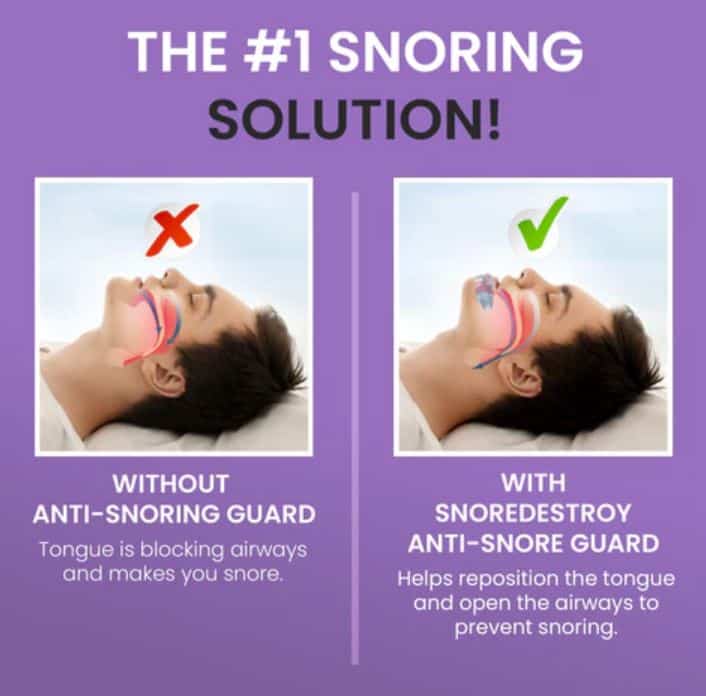 Does SnoreDestroy Truly Deliver on Its Promises?
Unfortunately, it does not live up to its advertised claims. The website purports to sell an anti-snoring device that not only eliminates snoring but also tracks sleep patterns. However, it's worth noting that the website was created recently in August 2023 and is set to expire in August 2024, indicating a short lifespan.
The offer might appear too good to be true. Notably, I couldn't locate any authentic customer reviews, whether positive or negative, about this device. The reviews posted on the website seem suspicious and likely authored by the owners themselves.
This product doesn't seem to offer practical benefits, and it's probable that customers would be spending their money without experiencing any positive outcomes.
Features and Claims of SnoreDestroy
SnoreDestroy offers several notable features and benefits:
It operates silently and is highly portable.
The self-molding flex gel ensures a comfortable fit.
It enables unobstructed airflow, enhancing your sleep quality.
Designed as a one-size-fits-all solution with a streamlined design.
SnoreDestroy is designed to improve the overall quality of your sleep.
It boasts a comfortable thermal fit for a pleasant experience.
Customer Reviews
We couldn't locate any reviews on third-party websites like TrustPilot or ReviewsIO. However, their website shows tons of positive reviews that are most likely to be fabricated and self-made. You can see them in the below picture.

Pros: What I Like About Snore Destroy Tongue Retainer Device
It aims to significantly reduce snoring volume, ensuring your partner's rest.
This product helps position you for quieter nights and encourages better breathing.
SnoreDestroy can reduce the occurrence of dry mouth during sleep.
It's drug-free and hypoallergenic, suitable for a wide range of users.
Expect a more restful and comfortable night's sleep with this product.
Also, read about Relaxium Sleep.
Cons: What I Don't Like About This Product
It's essential to consider the limitations:
SnoreDestroy may not entirely eliminate snoring in every case.
There are currently no online reviews available for this product.
The website, SnoreDestroy.com, raises some suspicion regarding its legitimacy.
Conclusion
Based on the available information, it remains uncertain whether the Snore Destroy Tongue Retainer is effective, as there are no online reviews to verify its authenticity. For more insights, you might want to explore reviews of other anti-snoring products we've discussed.