The Immudi anti-inflammatory strategy stands out as a distinctive alternative for science-backed health transformation in a world of many weight reduction applications and fad diets.
It goes beyond just putting numbers on a scale to assist people in losing weight by focusing on lowering inflammation in our bodies.
This cutting-edge app offers a roadmap to better living with an emphasis on non-inflammatory meals along with weight-tracking tools and customized activity regimens. Its mission is to nourish your well-being from the inside out.
I made the decision to thoroughly investigate this software and its approaches to see if the Immudi plan can really reverse weight gain and improve vitality.
What Is Immudi Plan?
Immudi is a nutrition application crafted to address inflammation by altering lifestyle habits, particularly those related to dietary choices, as processed foods stand as a primary contributor to inflammation.
The users receive a diverse range of resources, ranging from customized meal plans to comprehensive educational materials on inflammation, to support them throughout their journey.
Furthermore, in addition to reaping the advantages of reduced inflammation, such as an improved mood and clearer complexion, Immudi subscribers can anticipate shedding excess body fat, thereby bringing them closer to achieving their unique weight loss objectives.
Pros
The interface offers remarkable intuitiveness.
It contributes significantly to an overall shift in lifestyle.
Users can access educational resources to gain knowledge about inflammation.
The meal plan is personalized to accommodate food allergies and preferences.
The reduction in inflammation positively influences various facets of wellness.
Cons
The workouts lack customization.
It entails certain dietary restrictions.
It may be comparatively pricier than some weight loss applications.
How Does It Work?
Commencing your journey with the Immudi plan is a straightforward process. It commences with a brief questionnaire, which typically takes less than 60 seconds to complete (though we advise against rushing through it as it's not the optimal way to begin using the app).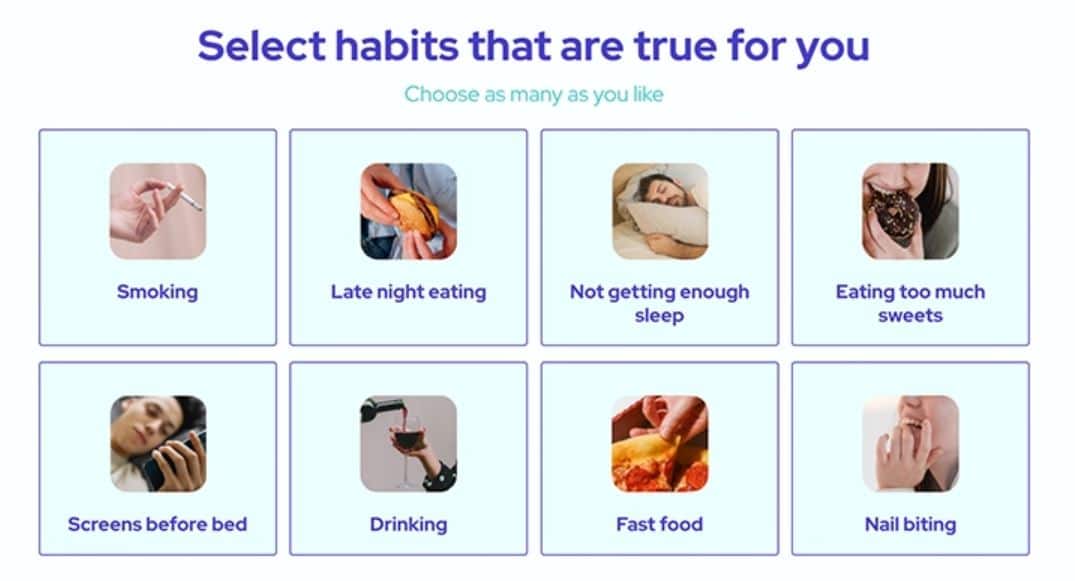 The questionnaire comprises general inquiries about your physical well-being, activity levels, mood, and energy throughout the day, as well as your starting and goal weight.
Upon completing the questionnaire, you will receive an estimated timeframe for achieving your desired weight loss results. Additionally, you will be presented with the option to select from three distinct plans, each with varying pricing structures.
Once you've made your plan selection, you can proceed to download the app. The consensus among both my own experience and that of other users who have taken the time to provide feedback is that the app is exceptionally user-friendly and thoughtfully organized.
Within the app, you will gain access to the full suite of offerings provided by the Immudi plan, including:
Access to a library of over 25,000 personalized meal plans.
A handy tool for assessing the inflammatory properties of specific foods.
Convenient shopping lists to streamline your grocery shopping experience.
A daily symptom tracker.
An informative lessons section.
A personalized progress tracker, complete with a weight-check feature.
Benefits of the Immudi Plan
When evaluating the Immudi anti-inflammatory plan, certain distinguishing features emerged that set it apart from its competitors. Allow me to elaborate on these aspects.
1. Addresses Chronic Inflammation
In the 2000s, approximately 125 million Americans, which equated to nearly 40% of the population, were grappling with chronic conditions linked to inflammation. Shockingly, studies indicate that up to 50% of global deaths stem from inflammatory conditions, including cancer and cardiovascular disease, both ranking among the primary causes of mortality.
Unlike several other health applications that predominantly advocate weight loss, Immudi adopts a refreshing approach by focusing on enhancing overall longevity. By targeting the underlying inflammation that often goes unnoticed, I firmly believe that the Immudi anti-inflammatory plan holds the potential to avert chronic diseases before they manifest.
2. Meal Plans Crafted by Certified Nutritionists
Unquestionably, the foremost selling point of the Immudi plan lies in its provision of over 25,000+ customizable meal options, tailored to your weight loss objectives and specific dietary restrictions or preferences. As one would expect from a diet-centered weight loss app, I appreciate that these meals are expertly curated by certified nutritionists who possess an in-depth understanding of nutritional complexities, offering evidence-based recommendations.
3. Incorporates Workout Plans
Whether you're aiming for rapid weight loss through the anti-inflammatory diet or any other dietary regimen, consistent exercise plays a pivotal role. Physical activity not only facilitates weight loss, a highly sought-after benefit of the Immudi anti-inflammatory plan, but it also aids in controlling food cravings by regulating blood sugar levels and hormones like ghrelin and leptin, which govern appetite and satiety.
4. Daily Lessons and Tips
Knowledge is indeed empowering, and Immudi empowers its users by imparting a comprehensive understanding of how their dietary choices influence inflammation and, in turn, their overall well-being. Additionally, there's a feature that enables you to effortlessly assess the inflammatory impact of any food you contemplate consuming, providing valuable insights when you decide to deviate from your meal plan.
Drawbacks of the Immudi Plan
In all my years of product reviews, I have yet to encounter anything that couldn't benefit from a touch of improvement. While I do have minor reservations, there are a few aspects of the Immudi plan that I would have approached differently.
1. Non-Customized Workout Plans
Considering the pivotal role exercise plays in achieving most health goals, I would have preferred a stronger emphasis on tailored workout plans for each individual. Instead, the Immudi anti-inflammatory plan offers a limited selection of pre-made, downloadable PDFs designed to assist users in getting started, potentially necessitating supplementary resources.
2. Involves Dietary Restrictions
Many individuals familiar with dieting are aware that imposing restrictions on certain foods can lead to a slippery slope of binge eating and other disordered eating habits. Given that the primary focus of the Immudi plan involves transitioning from conventional food choices to anti-inflammatory alternatives while abstaining from others, it may not be the most suitable choice for individuals who struggle to strike a healthy balance in their dietary habits. If this description resonates with you, numerous other weight loss apps that encourage non-restrictive eating may better align with your unique requirements.
3. Higher Cost Compared to Alternatives
While the Immudi anti-inflammatory plan isn't the most expensive weight loss app on the market, it also doesn't fall into the category of budget-friendly options, especially if you opt for a one-month subscription. Individuals seeking weight loss solutions unrelated to an anti-inflammatory diet can easily find alternatives that cater to their needs at a more economical price point.
Is Immudi Plan Worth And Right For You?
From what I've read online, many people who use the Immudi anti-inflammatory plan have dropped a significant amount of weight and, more significantly, profited from decreased inflammation. However, I didn't take the time to determine whether the plan was worth it in the long run.
Chronic conditions including diabetes, cancer, heart disease, and arthritis have inflammation as their primary cause.
An excellent first step in preventing these diseases is adopting an anti-inflammatory diet, which has been demonstrated to have a considerable impact on the biomarkers of inflammation. Additionally, the Immudi plan gives you all the resources necessary to modify your lifestyle practices in a long-lasting way.
The degree of your commitment will determine whether this diet is worthwhile and suitable for you.
What Is The Cost Of The Immudi Plan, And Is There A Refund Policy?
The Immudi anti-inflammatory plan comes at varying costs depending on your subscription choice. For instance, a 1-month subscription is priced at over three times the cost of a 6-month subscription.
Here's a breakdown of the different subscription tiers:
1-month plan: $39.99 (equivalent to $1.33 per day)
3-month plan: $51.99 (which averages out to $0.58 per day)
6-month plan: $66.99 (just $0.37 per day)
The good news is that no matter which plan you opt for, you'll enjoy full access to all the features provided by the Immudi plan.
Additionally, users have the option to cancel their subscription within 30 days to receive a full refund. Please note that refunds will not be processed for cancellations made after the 30-day period.
Conclusion
I do think that the Immudi plan is well worth the money because of its many special features, even though it is more expensive than several of the other weight reduction apps providing comparable services such as MyNetDiary and  FastEasy.
The anti-inflammatory diet plan provided by Immudi is a novel strategy to improve your health because it is created to combat the harmful effects of chronic inflammation, a condition that goes unnoticed but contributes to many major health concerns.
Immudi's anti-inflammatory program is currently being used by thousands of people all over the world to lose weight healthfully and combat the chronic illnesses it causes, such as diabetes and heart disease.
If you decide to join Immudi, I advise giving the 3-month plan a full shot before opting for other weight loss apps.