I'm writing my fifth blog related to online scam products on Supplements4fitness.com, tightly connected to my preceding article centered around the deceptive Joy Reid Weight Loss Keto Gummies – a sham product.
Operating under the moniker of Joy Reid Keto Gummies, you'll see different Keto Gummies supplements circulating within the United States. However, I strongly advise a thorough perusal of our comprehensive review of Joy Reid Weight Loss Keto Gummies before contemplating a purchase of this shady keto gummy supplement.
Who Exactly Is Joy Reid?
Joy Reid, born on December 8, 1968, and professionally known as Joy Ann M. Lomena-Reid, holds several impressive titles. She's an accomplished American cable television host, MSNBC national correspondent, authoritative liberal political commentator, and a published author.
For a substantial period, she helmed the highly-regarded MSNBC morning show, AM Joy. Notably, in 2018, The New York Times hailed her as a 'heroine' of the anti-Trump 'resistance', recognizing her immigrant roots. Adding to her achievements, she authored the book "The Man Who Sold America: Trump and the Unraveling of the American Story" in 2019. Building on her success, on July 9, 2020, MSNBC disclosed that Reid would assume the role of hosting The ReidOut, an all-new weeknight show based in Washington. This opportunity arose as the 7 p.m. Eastern time slot was left vacant in March due to the retirement of the former host of Hardball, Chris Matthews.
How Joy Reid's Weight Loss Journey and Keto Gummies Rumour Started?
As previously mentioned, she finds herself amidst the swirl of the High Fat and Low Carb diet discourse, closely tied to the principles of the keto diet. Capitalizing on this trend, numerous individuals across the United States are leveraging this buzz to market products using her name. This brings me to the focal point of our discussion—the unveiling of this supplement to furnish you with unadulterated truths.
To dispel any uncertainty, it becomes evident that there are no Keto gummies being endorsed or sold by Joy Reid. Her involvement is confined to the sharing of her personal weight loss journey—nothing more, nothing less.
Are There Any Online Reviews Available For Joy Reid Keto Gummies?
A scam review of Joy Reid's Weight Loss by Fresherslive reveals a discussion on shedding surplus fat through the process of ketosis. This review introduces Joy Reid Keto Gummies, a dietary supplement crafted to expedite the body's transition into the state of ketosis. This state is triggered by adhering to a low-carb diet, compelling the body to utilize stored fat as its primary energy source, resulting in effective weight loss.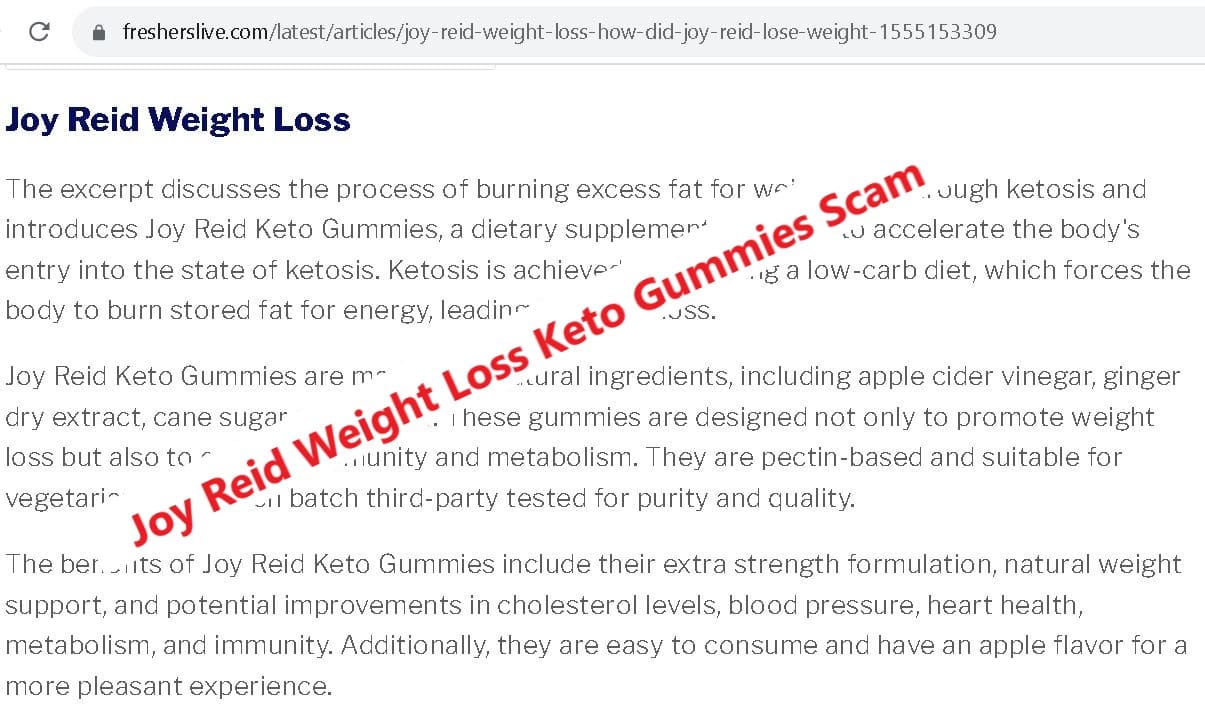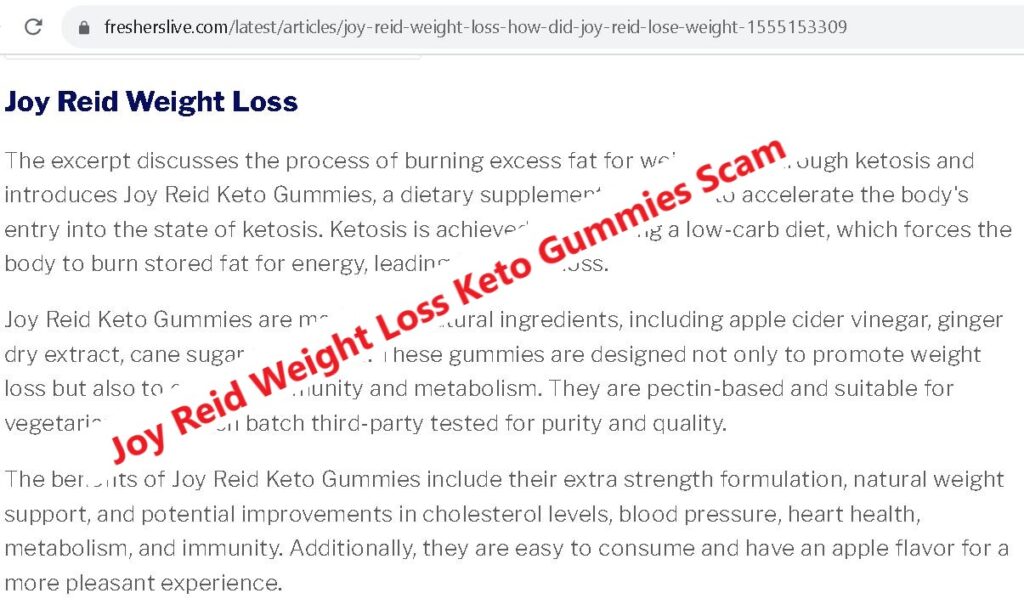 The composition of Joy Reid Keto Gummies comprises entirely natural elements, such as apple cider vinegar, ginger dry extract, and cane sugar, among others. Beyond their weight loss benefits, these gummies are strategically formulated to bolster the immune system and amplify metabolic activity. Noteworthy is their pectin-based composition, rendering them suitable for vegetarians. Additionally, each batch undergoes third-party testing, ensuring uncompromised purity and quality.
Joy Reid Keto Gummies offer an array of advantages, including their potent formulation, dedicated support for natural weight loss, and the potential to enhance key aspects like cholesterol levels, blood pressure, cardiac well-being, metabolism, and immune function. With an apple flavor complementing their easy consumability, these gummies promise not only effectiveness but also a delightful experience.
Uncovering The Weight Loss Keto Gummies Scams
The realm of celebrities seemingly knows no bounds when it comes to endorsing diets – whether in the form of pills or gummies – all over Facebook.
Over the years, Supplements 4 Fitness has dismantled numerous assertions regarding a diverse array of celebrities advocating for these products. Figures such as Ben Napier, Luke Combs, Tom Clancy, Anele Mdoda, Jack Paar,  country singers Tim McGraw and Miranda Lambert, and even former "Shark Tank" participants have fallen into this category.
In a recent assertion, CNN host Anderson Cooper reportedly engaged MSNBC host Joy Reid in a conversation about diet gummies during his show.
A post from July 21 on Facebook includes a video featuring Cooper on his show, accompanied by an inset image of Reid. The on-screen text declares, "Joy Reid weight loss formula," with smaller font underneath stating, "Americans are losing weight with NTX Keto."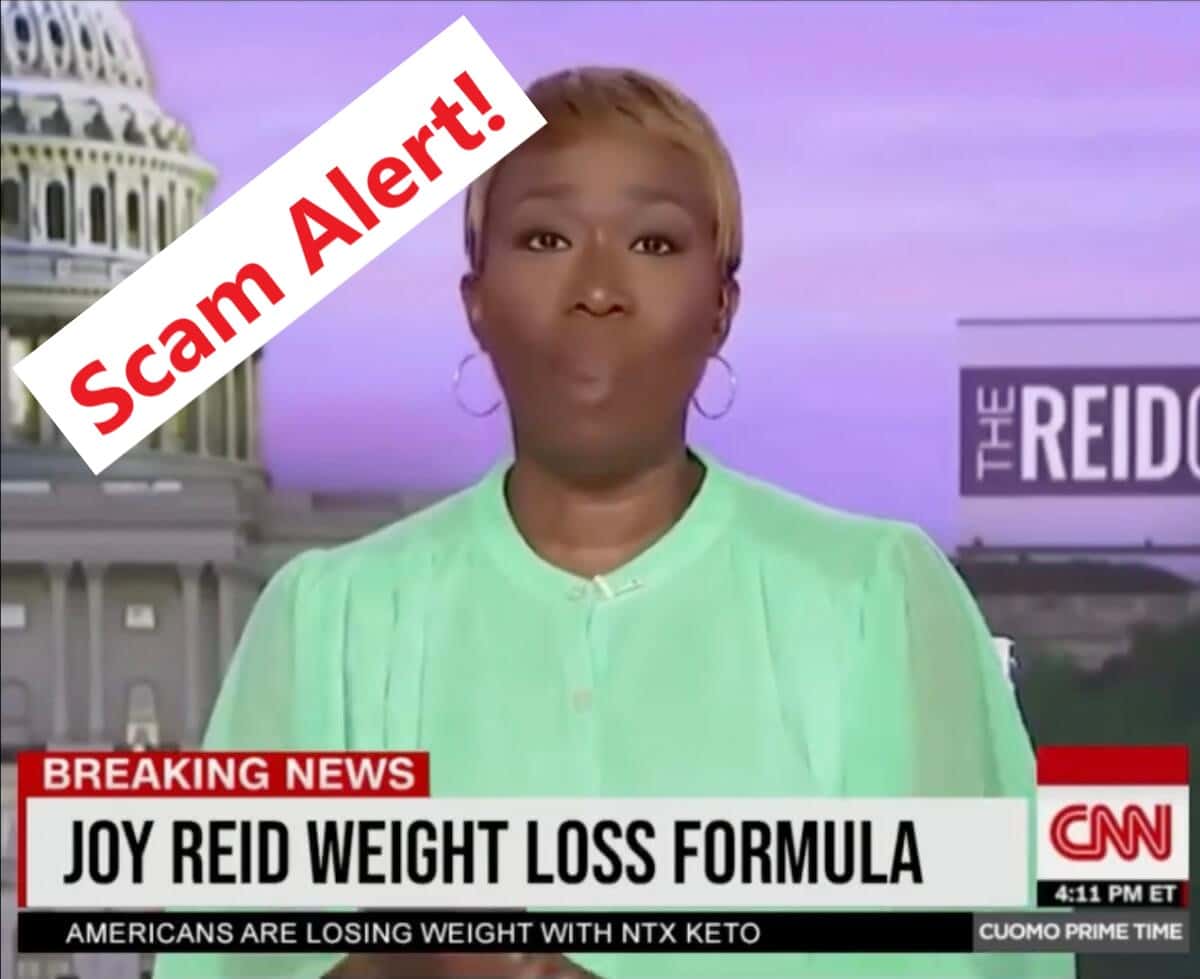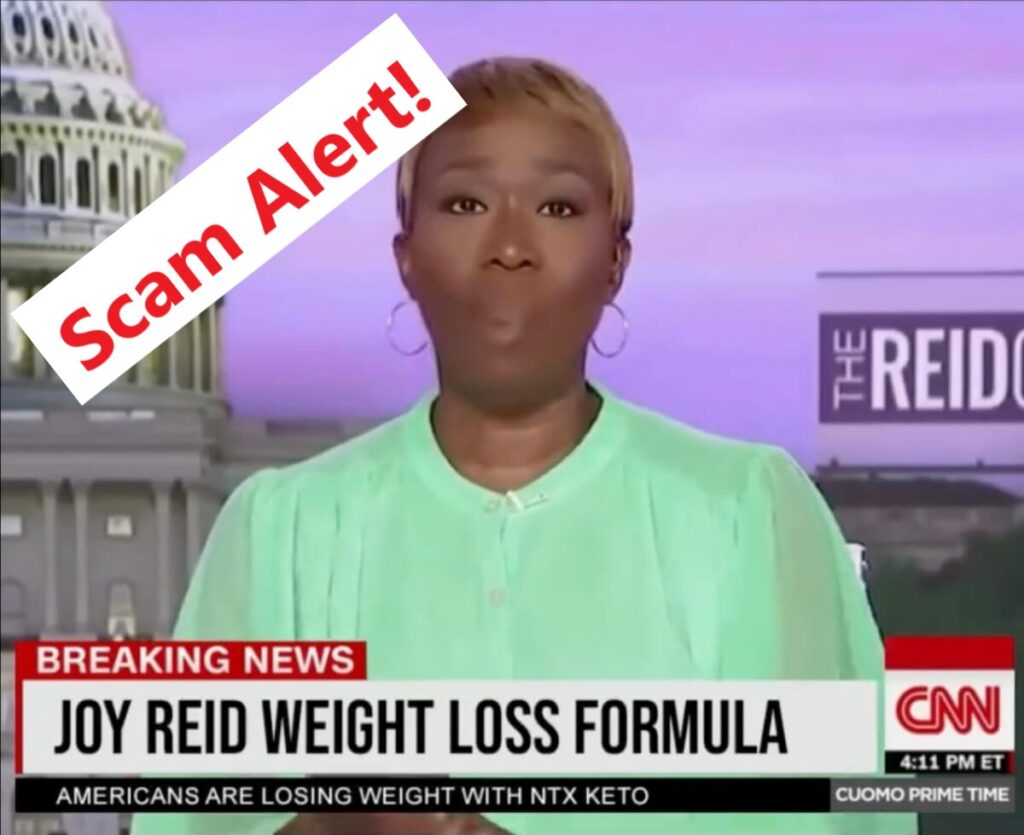 In the video, Cooper questions, "Joy Reid's attention-grabbing photos showcasing her weight loss outcomes with NTX Keto have flooded the internet. Can this possibly be true? We went directly to Joy herself to inquire, and here's her response."
The video transitions to Reid, the backdrop featuring the logo of her MSNBC show, "The Reid Out."
A hyperlink within the Facebook post leads to a fabricated Joy Reid post, wherein she ostensibly endorses the gummies. This page then directs users to an ordering page on a site named KetoBites.
Two other Facebook posts featuring the same video have been identified.
Meta has marked this post due to its commitment to curbing false news and disinformation on the News Feed.
If the notion of cable news shows transitioning to the set of another show and a journalist subsequently promoting a product on air strikes you as peculiar, that's because it truly is.
Anderson Cooper and Joy Reid's DeepFake Video
Further indications of deceit within the video arise from the unnatural appearance of Cooper and Reid's mouths. There are instances when their mouths move without corresponding words, and their visual clarity wavers, displaying telltale signs of a deepfake video.
We scoured a CNN webpage containing transcripts of "Anderson Cooper 360," yet found no mention of Reid's name in any of the show descriptions. Shimrit Sheetrit, a spokesperson from CNN, confirmed to PolitiFact that an interview involving Cooper and Reid "never occurred."
Joy Reid's Statement About These Keto Gummies
Reid's own video exposure shattered any optimism, as she penned a Facebook post on July 23 declaring, "Welp… I suppose I've officially joined the ranks of the world. I've fallen victim to a deep fake." With a tone of disillusionment, Reid disavowed any connection to weight loss gummies, vehemently denying her endorsement of such products. In a tone tainted by skepticism, she revealed her actual approach to weight loss—a mere twice-weekly exercise routine under the guidance of a coach who begrudgingly provides nutritional advice.
Her statement on Facebook:
Welp… I guess I've made it in the world. I've been deep faked. So NO, I have never been interviewed by Anderson Cooper. We've never even formally met. And NO, I have mot endorsed some weight loss gummies. I work out with @coachjaz twice a week and she coaches me on my nutrition. I do not take weight loss gummies and don't even know what they are. My cousin actually alerted me to this by texting me to ask if I could get her some gummies and I had no idea what she was talking about. Otherwise I wouldn't even have known. What a wild world AI has created. And yes, I will be consulting an attorney. Stay woke and be careful out there!
With a tinge of bitterness, Reid remarked, "What a disturbing realm AI has managed to craft." Plunging into a pit of pessimism, Reid finds herself lumped among the cadre of celebrities who have been thrust into the role of false product promoters on Facebook. The assertion itself stands as a blazing falsehood, leaving little room for optimism.
Final Verdict
The Joy Reid Weight Loss Keto Gummies Review concludes on a note of caution. This is a gamble that holds dire consequences. Your resources, both monetary and temporal, are at stake, necessitating a quest for the utmost dependable alternative. Regrettably, this product stands as a glaring deception, a fact that demands prudent avoidance.