Do you also want a thicker, more beautiful lash line? Our eyes communicate more loudly when we look with long lashes. As a last option, we use the lash serum to help people with short, thin eyelashes develop longer, fuller lashes naturally. They are really fantastic at what they do. However, there are many "self-claimed" lash growth gurus on the beauty market, making it difficult to locate genuine, efficient ones.
Top-tier lash serums NeuLash and Latisse have large user bases and effective formulas. But the inevitable question still remains. Which one is the better option? Wait until the conclusion of our NeuLash VS Latisse comparison, where we discuss their brands, packaging, ingredients, side effects, and more, to learn the whole answer.
NeuLash vs. Latisse: Which is the Superior Choice?
NeuLash and Latisse both enjoy prestigious reputations within the beauty industry as top-notch lash serums. My personal quest began when I sought a serum capable of restoring volume to my lash line, which had significantly thinned during the peak of my hypothyroidism last summer. My thyroid disorder caused the unfortunate loss of a lot of my eyelashes.
Given the circumstances, what could be more fitting than experimenting with one of these two renowned serums to regrow my lashes? Ultimately, I chose NeuLash over Latisse, primarily because Latisse requires a prescription. I'll be sharing my experience with NeuLash in more detail later on, but for now, let's explore a comparison between these two esteemed brands.
Latisse Vs NeuLash: Let's Begin The Showdown
The company that makes NeuLash is called Skin Research Laboratories, and it was founded in 1992. You can visit their website here. It produces its skincare and cosmetics in the US. They mostly concern the brow, lash, hair, and a few makeup necessities. Let's say the product or the outcomes left you unsatisfied. In that scenario, you can benefit from their 180-day return policy to get a refund on their products. Since the business doesn't test its goods on animals, they are free of cruelty.
Latisse is the first FDA-approved method for growing lashes for those with sparse, short, and brittle lashes. It employs bimatoprost ophthalmic solution 0.03%. Latisse is one of the cosmetics brands owned by Allergan Aesthetics that are related to "Facial Aesthetics" and "Body Contouring." Latisse is only available with a prescription. Since stores hardly ever accept returns of prescription medications, it is difficult to exchange the item. Even though Latisse uses animal testing, it is still a popular lash serum.
Due to their false claims about the product's safety, a few other brands, including NeuLash, came under fire from the FDA in 2011. However, Latisse has been FDA-approved since 2008, ensuring its use is secure.
Comparing Cover & Packaging Of Latisse And NeuLash
NeuLash Lash Enhancing Serum is presented in an elegant blue box, housing a 3.2 ml transparent bottle adorned with a cap that exudes a mirror-like quality. The applicator features a refined white tip, adding to its chic appeal. Notably, it can also be employed with lash extensions. Should you have any inquiries, please feel free to reach out to us at customerservice@skinresearchlabs.com. We are always at your service.
Latisse is packaged in a blue and white bottle, available in various sizes. The set includes 60 black sterile applicators, differing from NeuLash's fine-tipped applicator. The original 3 ml bottle is designed for a one-month supply, while the 5 ml bottle provides 140 applicators, offering a suggested usage of 10 weeks.
Which One Is Better As Per Clinical Trials?
NeuLash brand conducted comprehensive independent testing involving 102 subjects over a span of 56 days, yielding intriguing results. The consumer study revealed that a remarkable 88% of participants observed enhanced lash strength, while 86% reported an increase in lash fullness, thickness, length, and overall vitality.
In the case of Latisse, a performance study involved 137 patients who used the product nightly for 16 weeks. Impressively, 107 patients, constituting 78% of the group, experienced a significant improvement in eyelash prominence, encompassing fullness, length, and darkness. Specifically, lashes grew 106% fuller in 136 patients, gained 25% in length in 136 subjects, and darkened by 18% in 135 Latisse users. Furthermore, it is noteworthy that 91% of the 134 women in the study were 35 years or older, with 61.9% having light-colored eyes.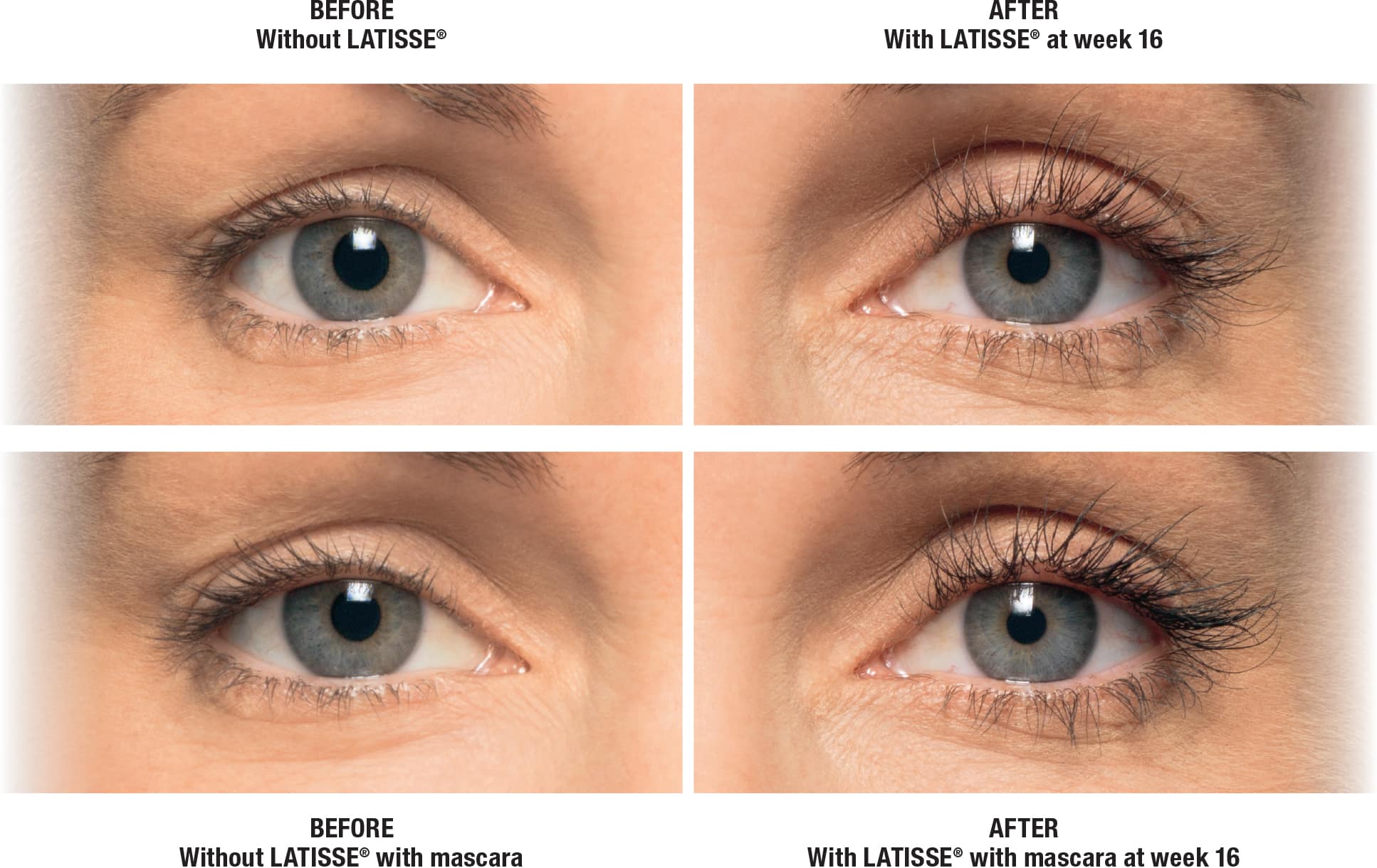 The ultimate test of the success achieved in these clinical trials, whether it be for NeuLash or Latisse, will be its reception by real-life customers. We will see if the results align with their experiences below.
NeuLash Vs Latisse: Ingredients
It is crucial to understand what substances you apply to your skin and (potentially) eyes. These lash serums' various compositions serve diverse functions. So let's investigate NeuLash and Latisse's ingredients. Both products, such as NeuLash's isopropyl cloprostenate and Latisse's bimatoprost, contain prostaglandin analogs that cause additional lash growth during the anagen (hair growth cycle) phase.
Isodecane, one of NeuLash's key components, helps the skin retain moisture. Therefore, it will condition your dry lashes. The solvent, butylene glycol, which binds all the chemicals in the container, comes next in the chain. Glycerin has the calming power to make an application go smoothly and nurture your lashes deeply. Collagen formation is aided by sodium hyaluronate and vitamin C.
Latisse contains certain inactive ingredients in addition to the active Bimatoprost. They are Sodium Chloride, also known as table salt, to thicken the serum, Benzalkonium Chloride (a preservative), Sodium Phosphate, Sodium Hydroxide, and Citric Acid as buffering agents to change the pH of the serum.
NeuLash: Pros and Cons
PROS
It's user-friendly and perfect for travelers.
It adheres to cruelty-free standards and is safe for contact lens wearers.
This lash serum is devoid of parabens and gluten.
It enjoys the approval of ophthalmologists and dermatologists.
It transforms short, brittle lashes into thicker, longer, and denser ones.
CONS
Some individuals might experience eye irritation.
The positive results are contingent upon continuous use; discontinuation will halt progress.
Those with sensitive eyes may find the use of preservatives and prostaglandin unsuitable.
Latisse: Pros and Cons
PROS
It has received FDA approval and is available by prescription.
Effective in treating hypotrichosis, a condition characterized by minimal eyelash growth.
Visible results are typically guaranteed within five weeks of use.
The likelihood of side effects is low when prescribed by a medical professional.
CONS
The cost can be substantial.
There is a possibility of permanent iris color change.
Discontinuation of use will result in a return to the average lash growth level prior to treatment.
You should also read the WooLash vs Babe Lash comparison and see which one is better.
How To Use Neulash And Latisse?
The application method of both lash serums is explained below.
How is NeuLash used?
Cleanse your face to remove grime and leftover makeup.
Only use this eyelash serum once daily.
Once dipped, move the applicator down the top lash line (eyelash base).
The opposite eye should also receive the same treatment.
Give the serum three minutes to dry.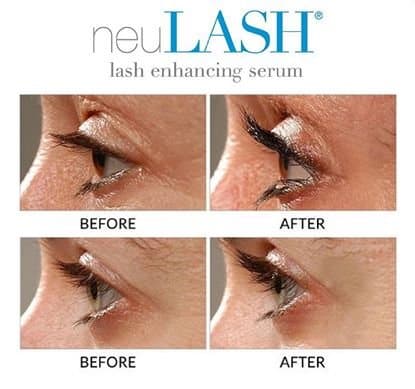 How is Latisse used?
Make sure your face is clean and clear of makeup, facial cosmetics, and contact lenses.
A sterile applicator should be removed from its tray and held horizontally. One drop of Latisse solution should be applied to the place just before the tip—not the end.
Strike the applicator as soon as possible along the top lash line, which is where the eyelashes meet the skin.
With a tissue, blot any excess solution that extends past the eyelid.
Use a new sterile applicator and repeat the procedure for the other eyelid.
Be careful not to apply the lash serums below the lash line. To reduce the risk of infection, avoid touching your fingers or the applicator with the tip of the Latisse solution.
Comparing Customer Reviews: NeuLash vs. Latisse
NeuLash Reviews
Allow me to begin by sharing my personal experience with NeuLash. This lash serum came into my life at the recommendation of a friend and remained a part of my routine for a solid six months. Notably, my lashes not only lost their volume but also became fragile. I diligently applied this serum as instructed, every night before bedtime. It didn't take long before I observed a noticeable increase in the volume of my lashes, possibly due to a bulging effect at the hair bulb's base.
I witnessed the initial changes within a span of three weeks, which encouraged me to continue using it up until today. However, there's a conundrum here—lash growth halts once you discontinue the use of such serums, and prolonged usage of prostaglandin-induced serums can be detrimental to one's well-being. Consequently, I find myself at a crossroads regarding its continued usage. Nevertheless, it would be prudent to consider the feedback from other users.
Bella Dawson offers this advice, "It took me a full two months to witness tangible results. Patience is key. My friend Sarah, on the other hand, experienced them in just a month. While your results may be a bit delayed, rest assured, they will come."

Jacqueline enthusiastically affirms, "This over-the-counter lash serum has become my favorite makeup companion. Within a mere three months, my lashes underwent a remarkable transformation, becoming longer and noticeably healthier. I wholeheartedly recommend giving it a try, at the very least."

Christine Lowe confesses, "While my lashes did become denser after two months of consistent use, my eyelids started to experience irritation and reddening after the sixty-day mark. Consequently, I discontinued its use and feel compelled to caution others about this."
Latisse Reviews
As Latisse is prescription-based, I, unfortunately, couldn't personally test it. Therefore, I'd like to share the experience of my friend Miley, who incorporated Latisse into her regimen under her doctor's guidance. Latisse delivered commendable results for her sparse and short lashes, making them thicker and notably longer than before. She discerned this transformation in the sixth week of her usage.
I must admit, given the considerably worse condition of her lashes prior to use, I was pleasantly surprised by the efficacy of Latisse. It appears safe to conclude that Latisse stands as an excellent choice among lash serums. The only caveat is that one should seek approval from a medical professional prior to use.
Julia M. remarks, "Latisse has been a game-changer for me. I could hardly envision a fuller lash line, especially after dealing with an illness, but it performed admirably."

Anna reports, "I had no reservations about using Latisse, as it was prescribed by my doctor. He did, however, advise me to cease usage immediately if any adverse reactions surfaced. To date, I've experienced no side effects, and I remain cautiously optimistic as I proceed."

Hellen, on a contrasting note, shares, "Finding a lash serum without adverse effects these days is a challenge. I applied Latisse only once, and it triggered an intense itchiness in my eyes within an hour. Despite its FDA approval, it may not be suitable for everyone."
Final Words
Our thorough NeuLash VS Latisse comparison illustrates their comparative effectiveness and outcomes. We looked at the histories of their brands, the validity of clinical research, the components, the side effects, the reviews, and the general pluses and minuses. Based on your eye and skin conditions, you can now safely decide whether to use NeuLash or Latisse. Keep in mind that replacing lost lashes calls for more assistance than just using lash serums. Utilizing your serum in conjunction with a wholesome diet and healthy lifestyle may hasten the appearance of benefits.
FAQs: Frequently Asked Questions
Q: Can NeuLash alter eye color?
A: While it is uncommon for NeuLash to change your eye color, there is a slight possibility. The presence of prostaglandin may result in alterations in iris pigmentation, particularly if you have light-colored green or blue eyes.
Q: Which is the preferred choice, NeuLash or Latisse?
A: It is advisable to opt for the product with the lowest likelihood of causing side effects to your eyes and skin. Latisse is the recommended choice, given its FDA approval and the necessity of a medical prescription for its use in your specific condition.
Q: What eyelash serum compares favorably to Latisse?
A: Numerous eyelash serums offer a viable alternative to Latisse. Brands such as NeuLash, Sorella Lash Serum, Scorolash, Lashfood Eyelash Serum, and Uberlash are a few examples that may not match Latisse's effectiveness but provide stiff competition. Be sure to review their ingredient lists before making a purchase.
Q: Is Nulastin superior to Latisse?
A: When comparing their pricing and potential side effects, Nulastin emerges as the more cost-effective choice. However, Latisse holds an advantage as a prescription-based, FDA-approved product. Each has its unique benefits, and for a comprehensive comparison, refer to our detailed analysis of the Nulastin VS Latisse comparison.
Q: Does WooLash outperform Latisse?
A: WooLash is priced lower than Latisse, and both products exhibit similar potency. Their differentiation lies in their primary ingredients and respective money-back guarantee policies. WooLash includes essential vitamins and minerals, while Latisse doesn't require them. In terms of trustworthiness among users, Latisse is generally considered more reliable due to its comprehensive and authentic details.